About us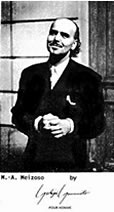 Out from Behind this Mask

Out from behind this bending rough-cut mask,
These lights and shades,
this drama of the whole,
This common curtain of the face
contain'd in me for me,
in you for you,
in each for each.
(Tragedies, sorrows, laughter, tears - O heaven!
The passionate teeming plays this curtain hid!)


Walt Whitman
[Image: Miguel-Ángel Meizoso by Yohji Yamamoto]
About Dr. Miguel-Ángel Meizoso :
Although I am still far from wisdom, some of those who come to me make astonishing progress. They discover truth for themselves, not from me - and yet I am an instrument in the hands of God.
Socrates
A suscint biography to date :
The Moon, the dawn, a tear...
They also speak of you, Mother
Miguel-Ángel Meizoso came to the world in Buenos Aires, a 7th August of the second half of the XX century, born from Spanish genitors. From his Mother, María Josefa, he received an enduring capital of love for life and for understanding the human soul. From his Father, Manuel Meizoso Pérez, a fair man and excellent raconteur, he inherited Jew roots and Christian ethics with a practical commitment to Freedom, true speaking and political Justice, as Plato wanted. ... biography continues here.
A brief professional résumé :
Miguel-Angel Meizoso started his university education at the age of 17 studying in three universities (at the same time while he was working) in the fields of: Economy, Theology and Psychology.
At his final examination in Psychology (1975), he was invited by the distinguished psychoanalist Dr. Alejandro Mario Wagner, chair of the examining board, to teach within his Faculty team at the National University of Buenos Aires, run in the same building where Jorge Luis Borges was also teaching.
Since 1979 - when the South american dictatorships threaten his life, forbidding his teaching at the University of Buenos Aires, the Catholic University of La Plata and the High Institute for Professorship of Lomas de Zamora - he moved to Europe (Spain, France and the United Kingdom) where he has pursue postdoctoral studies in all relevant fields of Classical Humanism, Philosophy, Literature and Psychoanalysis under the tutorship of eminent authors such as: Michel Foucault, Pierre Hadot, Jacqueline David de Romilly, Yves Bonnefoy, Claude Lévi-Strauss, Maud Mannoni and Octave Mannoni, Daniel Sibony, Solange Faladé, etc.
Dr. Meizoso has also studied, and continues to date, several modern and classical languages.
While living in Paris since January 1981 to January 1991, he has been a reader for Éditions du Seuil (invited by the famous Cuban writer Severo Sarduy) and other alternative French editorial houses such as Verdier, requested to discover and evaluate new talents in Literature (among other he discovered the talented writer Ignacio Martínez de Pisón).
Out of his own desire, he has translated Jorge Luis Borges into French during that decade in Paris (translations praised by Yves Bonnefoy and Héctor Bianciotti, among others famous writers) and later in English. Some translations were published by Éditions Gallimard in different international French publications as a tribute to Borges in June 1986.
Later that year he was invited to talk on Borges, the greatest Anglo-Spanish intellectual poet of the XX century, at the Centre Pompidou in Paris. The famous philosophers Jacques Derrida and François Lyotard invited Miguel-Angel Meizoso to direct in1986 a Seminar on Borges works at The International College of Philosophy in Paris. Also he has lectured several times since the 70´ in countries of Asia, Europe and the American continent.
Dr Meizoso is the only non French national to have been promoted in 1981 to the clinical direction of public hospitals in France (a so called "mandarin" position usually exclusive for French doctors); a very difficult but well done job for which he received recognition from eminent psychiatrists and psychoanalysts of international renown.
From January 1991 Dr Meizoso was invited to work for the National Health Services of the United Kingdom, where he founded an innovative method, Direct Care initiative, to radically improve Public Health Services, giving direct access to service and resolving lenghy waiting lists produced by the feudalistic style system which did not allow freedom of health services choice to adult clients.
Dr. Meizoso is also the founder of the altruistic organisation of the Friends of Borges and editor of the pro Democracy and Human Rigths web Habeas Corpus.

...résumé continues
A shorlist of statements on
Dr. Miguel-Ángel MEIZOSO-GONZÁLEZ

from Argentina
Prof. Alejandro Mario WAGNER, Teaching member of the Psychoanalytical Association of Argentina, Professor at the Faculty of Medicine, University of Buenos Aires.
from France
Dr. Maud MANNONI, psychoanalyst and writer, founder of Espace Analytique, international Center for Research and teaching in Psychoanalysis, and founder of the famous Experimental School of Bonneuil (to heal Autism).
Dr. Jean AYME, psychiatrist, former Head of Health services and president of the Hospital Psychiatrists association of France.
Dr. Roger GENTIS, psychiatrist, psychoanalyst and writer. He is also an Honorary Patron of many international institutions.
Dr. Daniel SIBONY, mathematician, psychoanalyst, writer, professor at the University of Paris.
Dr. Jacques-Antoine MALAREWICZ, psychiatrist, writer, former Head of Service at Dupré Clinic and President of the Systemic Therapies Association.
Dr Bernard DUPUY, theologian and writer. Up to 2005 was a distinguished director of the Istina Institute and editor of its famous erudite review.
Prof. Patrick-Daniel BAUDET, philosopher and writer; resident of the prestigious Foundation Thiers, as was the eminent philosopher Michel Foucault. Baudet worked also with the international reknown philospher Jacques Derrida. University Professor and at the Imperial College of Champagnat and the famous École Normale de Paris . He would had become an international well know scholar in Classical Grec studies but unfortunately died at the young age of 40 years from AIDS like did Foucault.
Mr. Claude de DONCKER, former Chief Executive of the Mental Health Public Services of Brittany, France
Chief executive of the Clinique Dupré, Paris, of the French Foundation of Students, etc.
Mr. Héctor BIANCIOTTI, famous writer and literary critic for Le Monde. Of Italian roots and exiled from Argentina, Bianciotti made his home in Paris and in the French language. He was the editor of Borges at Gallimard and was, until his death, a member of the distinguished French Academy founded by Cardinal de Richelieu in 1635.
Miss Silvia BARON SUPERVIELLE, journalist, translator and writer.
Prof. Yves BONNEFOY, poet, writer - author of an excellent biography on 'Rimbaud'- and translator of Shakespeare; former Professor at the College of France
from Spain
Prof. Alberto SAONER, philosopher, writer and Head of the Faculty of Philosophy at the University of Majorca, until his death.
from United Kingdom
Mr. Michael RYAN, former Manager of The Cardinal Hume Center, London, while alive card. Basil Hume.
Mrs. Carol HALL HART, was Head of Psychology Services in National Health Services of the UK.
Ms. Georgina HEWSON, journalist: "Doctor presents poem to Queen", published in The Evening Telegraph, 1993.
Dr. Victor George William Alexander CROWHURST, General Practitioner, partner since 1980 at National Health Services surgeries in the United Kingdom. Dr Crowhurst is a member of The Most Venerable Order of The Hospital of Saint John in Jerusalem, which runs St John Ambulance in many countries and is the UK leading First Aid, Care and Transport Charity.
Dr. L. A. TAN, General Practitioner at surgeries for the National Health Service of the United Kingdom and in private practice. Dr Tan Speaks English, Chinese and Malay.
More information, documents and statements available on request