Cavalier Argos,
a Man's best companion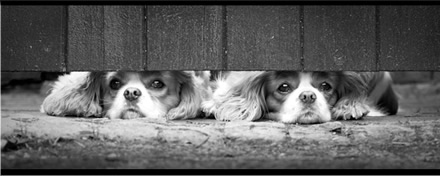 Cavaliers King Charles Spaniel gazing by photographer James Russell
NEWS
The important reason why you should let your dog sniff on walks
It plays a crucial role in mental stimulation:
Dogs navigate the world with their sense of smell, but do you notice your pet stopping to follow every scent outside? According to reports from The Telegraph, this gentler pace of walk should be embraced by owners, even if feels frustrating.

Sniffing provides lots of mental stimulation, particularly if your dog is growing old in years. Some dogs, especially as they age, prefer to plod slowly and investigate the scents around them. If your dog is also suffering cognitive decline or loss of sight or hearing, a slow walk with plenty of sniffing time is needed to keep them mentally stimulated.

... read the full article at Country Living - The Telegraph
Rescue a fellow animal to remain Human!


... more in Gostomel Animal Shelter, Ukraine


... more in Shelter Friend Dinipro, Ukraine
A Man & his Dog brave journey out of Hell inflicted by Putin in Ukraine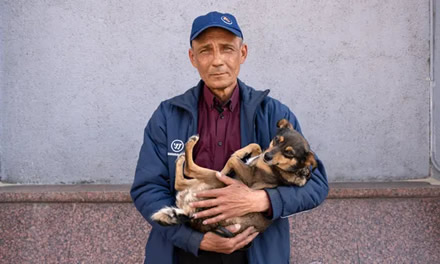 The aim was to be the invisible man, says Igor Pedin, 61. It was to drift, as if a ghost, with his small trolley bag of supplies and dog Zhu-Zhu, a nine-year-old mongrel terrier, through the hellscape of the besieged port city of Mariupol, out into the badlands of Russian-occupied territories and on to the relative safety of the Ukrainian-held city of Zaporizhzhia – a mere 225km walk away.
... read the full article in The Guardian
'Any breed could do it': dogs might be a Covid tester's best friend
Around the world – from the UK to Finland, Spain, Brazil, Lebanon and Australia – teams of researchers are training dogs to sniff out Covid-19. And some say the idea of training hundreds of thousands of canine noses to check for coronavirus is not as far-fetched as it may sound.
How do dogs do it? At Finland's Helsinki airport, where four Covid-19 sniffer dogs have begun work in a state-funded pilot scheme, passengers dab their skin with a wipe, which is placed in a beaker next to others containing control scents. If the dog detects the virus – shown by yelping, pawing, or lying down – the passenger takes a free swab test to verify its verdict.
Speaking to the Guardian, scientists said any breed could in theory be trained – a process taking between two and 10 weeks – raising the prospect of pet canines joining an army of Covid sniffers.
Prof Dominique Grandjean, of the national veterinary school of Alfort in France, who is leading a research team using bomb detection, cancer detection and search and rescue dogs, said the canines are not sniffing the virus itself but rather tell-tale volatile chemicals that are produced when the virus infects cells, and released by the body.

... read the article in The Guardian
Hong Kong quarantines pets after dog tested lightly positive for coronavirus. The dog has no 'relevant symptoms' but belongs to a 60-year-old woman with covid-19
Pets cannot carry the coronavirus, experts have said, after authorities in Hong Kong quarantined a dog and pledged to isolate more.

The Hong Kong quarantine is the first reported case anywhere in the world of a government restricting pets over the outbreak. The canine, a Pomeranian, has been placed in quarantine for 14 days as a precaution but has no "relevant symptoms", Hong Kong officials said.

"Nasal and oral cavity samples tested weak positive for COVID-19," a government spokesman said without explaining why they tested the animal in the first place.

...There is no evidence domestic animals such as dogs and cats can catch the virus or transmit it to humans but the department said all pets of infected people should be quarantined and tested for the virus for 14 days. However, Professor Jonathan Ball, a molecular virologist at Nottingham University, said testing the dog was a "red herring".

"It's like it [coronavirus] being on somebody's sleeve," he said. "The amount of virus on the dog was a weak test, so low that it probably wouldn't transmit anyway, and there's certainly no more risk than any other surface that could be contaminated by a person with coronavirus.

... read the full article in The Telegraph

Read also:
Hong Kong warns residents not to kiss pets after dog contracts coronavirus from ill owner... full article in The Guardian
From dogs in jeans and sunglasses to eating bento... Japan is taking dog ownership to a whole new level
Ziggy sometimes seems like the only naked dog in our neighbourhood.
He has a covering of curly white hair. But he doesn't wear a jacket to make him look stylish, nor a coat to keep him dry and warm. He has no bandanna around his neck, nor a bow in his hair. He certainly doesn't wear trousers, or dog diapers, and we don't wheel him around in a stroller.
Bringing a dog to Japan is a cultural experience all of its own.

... more in The Independent
Iran's ban on dog walking won't stop owners taking out their pets
Despite being considered impure in Islam, the republic's animal lovers plan to openly flout the new law, suggesting that it's more bark than bite.
Wherever Asal Bahrierad goes, her shih tzu terrier, Teddy, follows. The 31-year-old Iranian even slept in her car with Teddy for three nights, she says, when visiting with her mother, who doesn't like dogs. Impressed by her daughter's determination to be with Teddy, Bahrierad's mother finally relented and allowed her back in the house, with her beloved dog.
"Now both my mom and I can't imagine living without Teddy," Bahrierad says. "No one, not even the police can take him away from me."
That last statement is a matter of debate these days in Tehran. Last week Teddy and all other dogs in Iran were front and centre in Iran's nearly 40-year long battle against western influences when Tehran's police chief, Hossein Rahimi, announced that the judiciary had banned walking dogs in public. For good measure, the court also banned having dogs in cars.
In Islam, dogs are considered "najes", or impure. Guard dogs are tolerated, but keeping them as pets is a step too far. The problem is that many Iranians think otherwise.
Dogs are everywhere in Tehran: German shepherds on leashes in alleyways; Siberian huskies frolicking in the winter snow; and chihuahuas panting through the open windows of cars, not to speak of the many former street dogs adopted by animal lovers.
Every so often Iranian officials take note of the rising popularity and call for measures to prevent Iranians from normalising the notion that a dog is man's best friend.

... more in The Independent
Blind man makes history by finishing New York City Half Marathon aided only by dogs
A blind man has made history by finishing the New York City Half Marathon with the help of a few good dogs.
Thomas Panek, a lifelong runner who lost his eyesight more than 25 years ago, finished the race on Sunday by crossing the finish line of the race in less than two and a half hours.
Mr Panek was able to finish the race with the help of a golden Labrador retriever named Gus, who was pictured alongside the runner after the event with his own medal of completion.
...
Mr Panek is the CEO of Guiding Eyes for the Blind, a non-profit group that "provides superbly bred and trained dogs to people who are blind and visually impaired."

... more in The Independent
Thailand: a disabled dog -called Ping Pong- rescues baby buried alive by teenage mother
A disabled dog named Ping Pong has become the pride of his village in north-east Thailand, after rescuing a baby boy who had been buried alive by his teenage mother.
On Wednesday the canine's sniffing and digging attracted the attention of farmers to a spot of ground in Ban Nong Kham village, in Cham Phuang district, north east of Bangkok. According to Ping Pong's owner, the dog's digging exposed the child's legs, prompting locals to haul the infant to safety.

... more in The Guardian - The Independent - El Español
The calvary of countless dogs to bear Lucy's law.
Puppy and kitten farming to be banned under 'Lucy's law' .
Legislation will mean pet shops or commercial dealers can only sell animals they have bred.
Though a good step, it will not be enough to protect pets from reckless breaders and avoidable degenerative diseases.

A law banning puppy and kitten farming, which campaigners hope will end the practice by some unscrupulous breeders of keeping animals constantly pregnant and often in dirty and cramped conditions, is to be laid by the government.
The change, expected to come into force in April 2020, will mean young cats and dogs can no longer be sold by a pet shop or commercial dealer unless they have bred them.
Would-be pet owners will need to deal directly with breeders or rehoming centres, though some campaigners have called for the law, to be laid on Monday, to go further and clamp down on the practices of animal sanctuaries.

...The legislation is being named after a Cavalier King Charles spaniel called Lucy, who died in 2016 after being forced to repeatedly give birth in terrible conditions on a Welsh puppy farm.
The environment secretary, Michael Gove, said he wanted to ensure no other animal suffers the same fate. He said the law would put an end to the early separation of puppies and kittens from their mothers.
"I would like to thank the tireless campaigners and animal lovers who have helped to bring about this positive change," ["I pay tribute to the Lucy's Law campaign, spearheaded by PupAid, Care And Respect Includes All Dogs (CARIAD), and Canine Action UK, who have fought tirelessly for this step.]
Gove said. "This is all part of our plan to make this country the best place in the world for the protection and care of animals."

... more in The Guardian - The Independent - BBC - The Telegraph

For more information visit also: 'Dog Breed Health' - DogWellNet
El perro de un anciano ayuda a la Policía a localizarlo tras caer por un barranco en Gran Canaria
El perro pasó siete horas ladrando en el lugar donde su dueño cayó y el ruido sirvió a los agentes para encontrar al hombre de 81 años.

... solo en un país tan retrogrado como España se necesitan 7 horas para acudir al llamado de un perro y ayudar a un anciano! lea la nota en El Español
Good samaritan rescued from Thames after saving struggling dog

A good Samaritan who jumped into the River Thames to help rescue a struggling dog also ended up being plucked to safety.
The RNLI responded to reports of a dog in the river near Westminster Bridge.
As the lifeboat neared the scene they were told a member of the public had entered the water to try to save the dog.
Footage shows the lifeboat arriving to see a man stood on the rescue chains with the dog in his hands.
...more in The Telegraph
Walnut the Whippet last walk in his 18 years of life

... more in BBC - The Telegraph - The Independent - The Guardian
Pet owners warned of deadly foxtail grass threat to dogs
Pet owners are being warned of deadly seed infections this summer as the changeable British weather has brought an abundance of long grass.
Foxtail grass has covered fields and parks after warm temperatures in May and June saw it seeding after being held back by cooler conditions in March and April.
The seeds - shaped like darts - can penetrate a dog's skin or enter body cavities and burrow deeper, causing painful, and potentially lethal, tissue damage and infection.

... read the full article in The Telegraph
All UK dogs must now be microchipped as new laws come into force
More than a million dogs in the UK are yet to be microchipped ... [+]

Read also:

Dog owners should ignore the new microchipping law, says senior vet: 'Most of the serious adverse reactions (including death) have been in puppies and small breeds' ... [+]

... more at




Visit also:
Dog Reference.com

The Whole Pet Diet
The Holistic Pet Plan will help transform any pet to feel better, look better and take full advantage of its own innate healing powers in just eight short weeks! ... you can buy this book in Amazon




... more in DOGReference.com
Pas de repas de réveillon pour les animaux
[Christmas food harmful for your dog and pets]
Chocolat, saumon fumé, foie gras, ail... Autant d'aliments festifs qui peuvent être très toxiques pour les animaux.
Si votre chien se lèche les babines devant du chocolat, «il faut résister à la tentation de lui en donner», prévient la vétérinaire Céline Moussour. Chocolat, marrons, saumon fumé dont nous nous régalons à Noël peuvent provoquer des intoxications chez les animaux et, dans les cas les plus graves, entraîner la mort. Il faut de même être attentif à certaines plantes décoratives qui sont elles aussi toxiques. Les vétérinaires alertent sur tous ces produits nocifs pour les animaux qui peuvent gâcher le réveillon.
...Les pancréatites sont aussi très nombreuses à Noël. Il s'agit d'une «grosse inflammation du pancréas due à la consommation de foie gras mais aussi des intoxications à l'ail, l'oignon et au raisin» explique Laurent Gouardo, vétérinaire urgentiste à l'École vétérinaire de Maisons-Alfort (Val-de-Marne). «J'ai soigné un chien souffrant d'une pancréatite car sa maîtresse lui avait cuisiné un poulet à l'ail», se rappelle-t-il.
... more [in French] Le Figaro
Read also:
A dog is still not just for Christmas: The slogan may be 35 years old, but visit a centre for unwanted dogs and it's apparent that the message remains as true as ever ... [+]

Dog theft needs government action, says parliamentary group: MPs and peers are urging the government to do more to tackle organised dog theft... [+]

DogLost.co.uk - The National Database for Lost and Found Dogs.

Pets advice, videos and news in The Telegraph

Dogs news in The Guardian

Animal Wardens

UK National Missing Pet Register
Blind man credits dog Orlando with saving his life on NYC train tracks, but has no money to care for his dog

Gallant guide dog Orlando was just doing his duty.
The black Lab bravely leapt on to the tracks at a Manhattan subway platform Tuesday after his blind owner lost consciousness and tumbled in front of an oncoming train.
Cecil Williams, 61, and Orlando both escaped serious injury when the train passed over top of them - a miraculous end to a harrowing ordeal that began when Williams began to feel faint on his way to the dentist.
"He tried to hold me up," the emotional Williams told The Associated Press from his hospital bed, his voice breaking at times.
Witnesses said Orlando began barking frantically and tried to stop Williams from falling from the platform. Matthew Martin told the New York Post that Orlando jumped down and tried to rouse Williams even as a train approached.
"He was kissing him, trying to get him to move," Martin said.
... more in MNSBC - BBC - El Mundo - Time US
While most dog owners will recognise their pet's wagging tail as a sign of joy, they may also want to pay more attention to their animal's face the next time they walk in through the front door.
Animal behaviour experts have found the animals' emotions are betrayed by specific facial movements that can reveal whether your dog really is pleased to see you.
Using high-speed cameras, the researchers tracked the changes in the faces of dogs in the moments they were reunited with their owners or when meeting a stranger for the first time.
... [+]
Dog owners warned to keep Easter eggs out of reach of their pets as chocolate could kill them ... [+]
Firefighters in Poland say a small dog probably saved the life of a three-year-old who went missing from her home overnight in freezing temperatures.
The child, Julia, vanished on Friday and was found lying in marshes several kilometres from her house on Saturday morning, with the dog by her side.
She is now in hospital in western Poland, suffering from frostbite after temperatures fell to -5C (23F).
Firefighter Grzegorz Szymanski said the dog kept the child warm enough to live.
"For the whole night the animal was with the girl, it never left her. Remember, it was 5 degrees below zero and the child was wet," he said, adding that the animal was the most important factor in the girl's survival... [+]
Whale vomit discovered by a dog could spell fortune for Briton
If proven to be ambergris, a valuable substance in perfumes, find could be worth thousands of dollars.
Ambergris, the more savoury term for whale vomit, has been used in perfumes for centuries and appears in the classic American novel Moby Dick.
Now this rare substance, produced only by sperm whales, could make one British beachcomber a lot of money

...more in AlJazeera
John Unger and his friend Schoep
'He saved my life... I just want to help him in return': Owner of sick dog whose picture touched the nation's hearts reveals how loyal companion stopped him from suicide...
The man pictured lulling his arthritic dog to sleep in Lake Superior has revealed that his dog Schoep saved him from the brink of suicide.
John Unger, 49, adopted the dog with his ex-fiancée 19 years ago, but after the relationship ended, Mr Unger fought a desperate despair.
The companionship of his trusty rescue dog gave Mr Unger the courage to go on, saying : 'I don't think I'd be here if I didn't have Schoep with me. I just want to do whatever I can for this dog.'
The water soothes the animal's pain, Mr Unger said, allowing him to sleep.
Mr Unger's good friend Hannah Stonehouse Hudson, who is a professional photographer, captured the heartbreaking moment between the man and his aging rescue dog in Wisconsin when Mr Unger thought his best friend was at the end of his life.
But thanks to the generosity of strangers, the MailOnline can reveal that thousands of dollars have been donated to Schoep's medical care, allowing the pair more time together than they ever imagined.

...more in The Daily Mail - News.com.au - News Channel - La Nacion
Xiaosa, a stray dog who runs 1,700 Kms to Tibet with Chinese cyclists
A stray dog has completed a 1700km journey across China after joining a cycle race from Sichuan province to Tibet.
The dog, nicknamed "Xiaosa", joined the cyclists after one of them gave him food.
He ran with them for 20 days, covering up to 60km a day, and climbing 12 mountains.
Cyclist Xiao Yong started a blog about Xiaosa's adventures, which had attracted around 40,000 fans by the end of the race.

...more in the BBC
Enjoy nature & animals in the heart of London
Visit with your dog the London City Farms


...more information: Mudchute Farm - Hackney Farm - Kentish Town Farm - Vauxhall Farm - Surrey Docks Farm - Belmont Children's Farm - Lee Valley Park Farms - Spitafields City Farm - Stepney City Farm - Newham City Farm
A piece of propaganda for the UK Kennel Club:
"Dogs - A Healthy Future"
- when all is needed to protect dogs from reckless breeding is a law by Parliament

This film, narrated by Clare Balding, looks at the issues affecting dog health and wellbeing in the UK and what is being done in 2012 to help ensure that dog welfare stays at the top of the agenda.
'Dogs -- A Healthy Future', focuses on the main issues that affect dog health and welfare, including hereditary diseases, issues created by breeding dogs for the way that they look and the problem of cruel puppy farms that breed dogs for profit without regard for their health and welfare.
The film explores the steps that have already been taken to address these issues and the need for united action in order to ensure that the progress continues in 2012.


Why do people rush in to rescue their dogs from water?
The tale of dog owners taking extraordinary risks to save their furry friends from freezing or fast flowing water is a familiar story.
But the dangers of owners falling into distress after desperate rescue attempts are equally well documented.
"Woman and dog pulled from river", "Owner tried to save dog from sea", "Man dies after dog rescue attempt off Brighton beach" are headlines from the last couple of years alone.
And according to the Royal Society for the Prevention of Accidents (Rospa), on average there are seven animal rescue-related deaths in the UK a year.

Animals are actually more resilient than humans believe - they can deal with cold for longer than humans, and in most of the cases when people have gone in to rescue a dog, it has got out safely a few minutes later, the charity says.

...more in the BBC
Read also: Britain's most celebrated dogs
Tillman the Skateboarding dog
A dog keeps watch over dead owner's graveside
A dog in China who was the only companion to a single resident has refused to leave him even after his death.
Lao Pan, 68, died earlier this month in the village of Panjiatun.
His dog was found later at his grave, refusing to leave even after seven days without food.

Watch in the BBC's Xiaoyun Yao's report.
Dog stays by deceased owner's side
Liger cubs nursed by dog in China zoo
Two liger cubs - a cross between a male lion and a female tiger - are being nursed by a dog at a zoo in Weihai, eastern China.
Four cubs were born at the Xixiakou Wildlife Zoo earlier this month but only two survived.
The mother stopped feeding the cubs after a few days so the dog, which had recently had its own puppies, was enlisted to help.

...more in the BBC
Dog Won't Leave Injured Friend Behind

...more in GlobalAnimal.org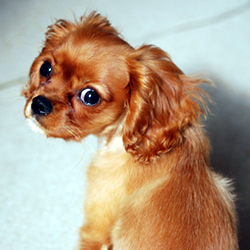 This photo of me, Argos, was taken in 2008, when I was still a puppy,
living at Siddharta House,
while my new home was in the making.