Hights of Inspiration
The photos on the above screen and in the page show a hill within Can Mossenya estate [a significant part of the original Royal Chartreuse of Jesus of Nazareth estate since 1300]. The popular believe is that in this hill a uneducated woman from the nearby town of Valldemosa, Catalina Thomás (1531-1574), would come in search of God, to pray Him in the peaceful beauty of this landscape . In 1930 she gained sainthood by decision of HH Pio XI, for her fight against the temptations of the flesh and for spending a simple life under a local religious order. She is the saint of Majorca and the natives believe that her body is maintain incorrupt since her death, which she would had predicted 10 years in advance. In all the towns of the island is celebrated her "departure to Heaven" the 28th of July.
As George Sand did in her 'Winter in Majorca' with Chopin in 1835, Borges also left some witty and critic observations on the island's folklore, which he observed during his sojourns with his genitors and his sister Norah between 1919 and 1923.

Turn on to listen 'Taqsim'
by Al Turath Ensemble directed by Muhammad Hamadiyih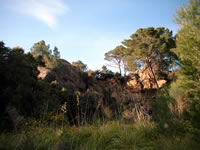 Climbing to the Highs of Inspiration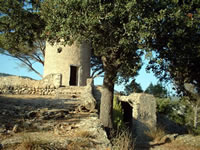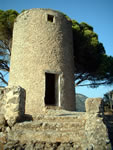 The word "Mill" (of Arabic features) that the locals called "Molino de la Beata"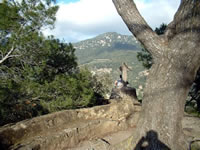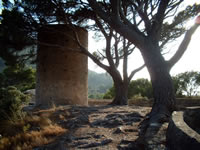 An space between Sunrise and Sunset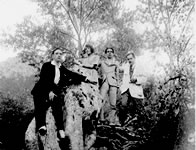 Borges con su hermana Norah y dos amigos en Can Mossenya (circa 1919)
Can Mossenya estate with the Carthusian convent (circa 1986),
the historic state of The Royal Chartreuse of Jesus of Nazareth, declared National Monument in 1971.
'Die GroBe Stille' ('Into Great Silence')
by Philip Groening
Nestled deep in the postcard-perfect French Alps, the Grande Chartreuse is considered one of the world's most ascetic monasteries.
In 1984, German filmmaker Philip Gröning wrote to the Carthusian order for permission to make a documentary about them. They said they would get back to him. Sixteen years later, they were ready. Gröning, sans crew or artificial lighting, lived in the monks' quarters for six months—filming their daily prayers, tasks, rituals and rare outdoor excursions.

This transcendent, closely observed film seeks to embody a monastery, rather than simply depict one—it has no score, no voiceover and no archival footage. What remains is stunningly elemental: time, space and light. One of the most mesmerizing and poetic chronicles of spirituality ever created, INTO GREAT SILENCE dissolves the border between screen and audience with a total immersion into the hush of monastic life. More meditation than documentary, it's a rare, transformative theatrical experience for all.