Thou shall not murder
This Commandment remains the basic law for any civilization.
"Human beings are not gentle, friendly creatures wishing for love, who simply defend themselves if they are attacked, but that a powerful measure of desire for aggression has to be reckoned as part of their instinctual endowment. The result is that their neighbour is to them not only a possible helper or sexual object, but also a temptation to them to gratify their aggressiveness on him, to exploit his capacity for work without recompense, to use him sexually without his consent, to seize his possessions, to humiliate him, to cause him pain, to torture and to kill him. Homo homini lupus; who has the courage to dispute it in the face of all the evidence in his own life and in history? This aggressive cruelty usually lies in wait for some provocation, or else it steps into the service of some other purpose, the aim of which might as well have been achieved by milder measures. In circumstances that favour it, when those forces in the mind which ordinarily inhibit it cease to operate, it also manifests itself spontaneously and reveals men as savage beasts to whom the thought of sparing their own kind is alien. Anyone who calls to mind the atrocities of the early migrations, of the invasion by the Huns or by the so-called Mongols under Jenghiz Khan and Tamurlane, of the sack of Jerusalem by the pious Crusaders, even indeed the horrors of the last world-war, will have to bow his head humbly before the truth of this view of man."
'Civilization and its discontents' by Sigmund Freud
For a more in deep knowledge of current issues affecting our planet, we invite you to watch, listen or read the Internet independent channel Democracy Now!

And click on the screen to watch an Al Jazeera reportage on how Kirchner and other peronists parties buy votes from poor people in Argentina.
2009
Vatican's Cardinal Martino calls Gaza a concentration camp: The Gaza Strip had been turned into a "concentration camp" by two weeks of Israeli bombardments, a senior Vatican official said in an interview published yesterday. Vatican Justice and Peace minister Cardinal Martino was quoted by the online Italian daily Il Sussidiario. "Let's look at the conditions in Gaza: these increasingly resemble a big concentration camp," Cardinal Martino said. Israel slammed Cardinal Martino's comments, saying they were "based on Hamas propaganda". "Making remarks that seem to be based on Hamas propaganda while ignoring its numerous crimes ... does not bring the people closer to truth and peace," foreign ministry spokesman Yigal Palmor said. Cardinal Martino said it was in neither party's interest to carry on fighting and urged both to show more willingness to hold peace talks. "If they can't come to an agreement, then someone else should do it (for them). The world cannot sit back and watch without doing anything. "We Christians are not the only ones to call this land holy; Jews and Muslims do so, too. "The fact that this land is the scene of bloodshed seems a great tragedy," he said. Israel's offensive on Gaza has killed almost 700 Palestinians, including 220 children, and injured 3000 since December 27, according to Gaza medics. Aid agencies have declared a total humanitarian crisis in Gaza, owing to the declining stocks of basic food, water and medical supplies. ...more in The Australian - The Times - BBC - The Telegraph - Le Monde - El País
2008
August
Valery Gergiev role on world stage as close mate of Putin, the infamous: Nobody else was ever going to conduct this concert. Valery Gergiev, the most talked-about maestro in the world today, is not only Ossetian by birth (his wife and children still live there) but also a close friend of Vladimir Putin. At 55 he is also by far the most influential wheeler-dealer in the arts world of post-communist Russia. From the Russian point of view he is the perfect choice: the living embodiment of the view that Ossetians are far closer to Russians in temperament, politics and culture than to Georgians. Not that Gergiev is like anybody else. He has a Rasputin-like presence on the concert platform — dark, unsettling and mesmerising — and a tsar-like reputation for dragging the venerable but ailing Maryinsky Theatre in St Petersburg out of its post-perestroika doldrums. Exercising ruthless control over every aspect of the theatre's operation, and wooing oligarchs, politicians and foreign sponsors with equal success, he has turned the company into a powerhouse of dazzling young talent. He regularly works a 20-hour day, holding meetings through the night in a favourite St Petersburg watering hole, then appearing at 10am to rehearse some operatic epic. His conducting schedule is equally manic. He once directed three different orchestras, in three different countries, on the same day. That he was conducting his "other" orchestra, the London Symphony, in a three-hour Prom in London on Wednesday would have been no deterrent to his appearing in South Ossetia 24 hours later. Inevitably a private jet is waiting to whisk him round the world, courtesy of his super-rich Russian friends.
...Other conductors have made famous political gestures. Leonard Bernstein conducted Beethoven's Ninth Symphony by the ruins of the Berlin Wall. Simon Rattle pointedly conducted the same work at Mauthausen concentration camp, outside Linz, soon after Jörg Haider's right-wing Freedom Party entered government in Austria. Daniel Barenboim, an Israeli, appalled many Zionist Jews by playing concerts in Ramallah. And Mstislav Rostropovich rushed to Moscow in 1991 to join Boris Yeltsin in the besieged White House. However, none of those figures was, or is, as closely allied to a country's political elite as Gergiev is to Putin. ...more in The Times - The Independent - The Guardian
---
Agony of Burma's dumped children: In a filthy destitute village, half an hour outside Rangoon, three-year-old Than Than Nues was dumped days after Cyclone Nargis had ravaged her home in Burma's Irrawaddy delta and made her an orphan. The toddler, who lost both her parents when 12ft waves swept through their home in Bogalay, a coastal township, was carted off in a government lorry and handed over to strangers. Villagers, who struggled to feed their own families from their meagre rice paddies or from working in a factory on a daily wage of just 75p, were forced to provide for the extra mouths. Last week underfed children played in the mud-filled main street, still trying to forget the traumatic night in May when they saw their closest relatives swept to their deaths. "If she stays here her future is bleak. She'd be much better off with her older brother," said U Saw Hein, the village leader, as his daughter bounced the child on her knee. "We discovered that he's 18 and working near Mandalay. He doesn't know she's alive. We really want to get them back together, but we barely have enough to survive on and the bus fare to Mandalay is £5. We just can't afford it," he said. With the delta infrastructure destroyed there are no telephones - even if the desperately poor farmers could afford to call. The only way to reach people is to go and meet them. Than Than Nues was one of several children found by The Sunday Times who had been displaced close to the devastated delta region. They had become separated from their families first by the force of nature, then by the price of a bus fare, and had little chance of being reunited. In another bleak village half an hour from Bogalay, which Burma's paranoid government keeps hidden behind military checkpoints, four-year-old twins Ma Nu Nu and Ma Su Su took shelter from a torrential downpour with other severely undernourished children. There was no way to tell what memories the quiet little girls had of their mother who was wrenched from them during the cyclone, or of their father who was working near the Thai border, unaware that his daughters had survived. Although the villagers knew where to find him, the cost of the three-day journey to the border was beyond their means. The best they could do was to care for the girls as if they were their own. About 54% of the 138,000 cyclone victims were children. Aid agencies such as Save the Children and Unicef believe there could be as many as 2,000 children still separated from their families. In an effort to save them from being forced into crammed orphanages, the charities are setting up a tracing system to help to reunite them. Out of 800 children officially registered by international agencies as "separated and unaccompanied", 45 have been reunited with close relatives. The process could take up to two years. "Entire families were swept away and it impacted on children more than anybody," said Guy Cave, head of child protection at Save the Children in Rangoon. The tracing system, which was used after the Asian tsunami in 2004, registers lost children on a database and sends local workers to remote villages to track down surviving relatives. The system has saved two sisters, Ma Thin Thin, 13, and Ma Lin Lin, 15, from being dumped in a grim state-run orphanage. They were an hour from home in Laputta township when the cyclone struck. They survived by clinging onto hay bales throughout the night, finding themselves stranded on a small patch of dry land the next day. ...read the report in The Times and in the web of Save the Children
Evil for evil or why Georgia invasion is a Lesson on U.S.: The image of President Bush smiling and chatting with Prime Minister Vladimir V. Putin of Russia from the stands of the Beijing Olympics even as Russian aircraft were shelling Georgia outlines the reality of America's Russia policy. While America considers Georgia its strongest ally in the bloc of former Soviet countries, Washington needs Russia too much on big issues like Iran to risk it all to defend Georgia. And State Department officials made it clear on Saturday that there was no chance the United States would intervene militarily. Mr. Bush did use tough language, demanding that Russia stop bombing. And Secretary of State Condoleezza Rice demanded that Russia "respect Georgia's territorial integrity." What did Mr. Putin do? First, he repudiated President Nicolas Sarkozy of France in Beijing, refusing to budge when Mr. Sarkozy tried to dissuade Russia from its military operation. "It was a very, very tough meeting," a senior Western official said afterward. "Putin was saying, 'We are going to make them pay. We are going to make justice.' " Then, Mr. Putin flew from Beijing to a region that borders South Ossetia, arriving after an announcement that Georgia was pulling its troops out of the capital of the breakaway region. He appeared ostensibly to coordinate assistance to refugees who had fled South Ossetia into Russia, but the Russian message was clear: This is our sphere of influence; others stay out.
...And Bush administration officials acknowledged that the outside world, and the United States in particular, had little leverage over Russian actions. "There is no possibility of drawing NATO or the international community into this," said a senior State Department official in a conference call with reporters. The unfolding conflict in Georgia set off a flurry of diplomacy. Ms. Rice and other officials at the State Department and the Pentagon have been on the telephone with Russia's foreign minister, Sergey V. Lavrov, and other Russian counterparts, as well as with officials in Georgia, urging both sides to return to peace talks.
..."Strategically, the Russians have been sending signals that they really wanted to flex their muscles, and they're upset about Kosovo," the diplomat said. He was alluding to Russia's anger at the West for recognizing Kosovo's independence from Serbia. Indeed, the decision by the United States and Europe to recognize Kosovo may well have paved the way for Russia's lightning-fast decision to send troops to back the separatists in South Ossetia. During one meeting on Kosovo in Brussels this year, Mr. Lavrov, the foreign minister, warned Ms. Rice and European diplomats that if they recognized Kosovo, they would be setting a precedent for South Ossetia and other breakaway provinces. For the Bush administration, the choice now becomes whether backing Georgia — which, more than any other former Soviet republic has allied with the United States — on the South Ossetia issue is worth alienating Russia at a time when getting Russia's help to rein in Iran's nuclear ambitions is at the top of the United States' foreign policy agenda.
..."Strategically, the Russians have been sending signals that they really wanted to flex their muscles, and they're upset about Kosovo," the diplomat said. He was alluding to Russia's anger at the West for recognizing Kosovo's independence from Serbia. Indeed, the decision by the United States and Europe to recognize Kosovo may well have paved the way for Russia's lightning-fast decision to send troops to back the separatists in South Ossetia. During one meeting on Kosovo in Brussels this year, Mr. Lavrov, the foreign minister, warned Ms. Rice and European diplomats that if they recognized Kosovo, they would be setting a precedent for South Ossetia and other breakaway provinces. For the Bush administration, the choice now becomes whether backing Georgia — which, more than any other former Soviet republic has allied with the United States — on the South Ossetia issue is worth alienating Russia at a time when getting Russia's help to rein in Iran's nuclear ambitions is at the top of the United States' foreign policy agenda.
..."We've placed ourselves [USA] in a position that globally we don't have the wherewithal to do anything," Mr. Friedman of Stratfor said. "One would think under those circumstances, we'd shut up." ...read the article by Helene Cooper in the The New York Times / and the translation into Spanish in El País
Solzhenitsyn's sinister side revealed in letter to The Times: Aleksandr Solzhenitsyn's cantankerous side is exposed in a letter he sent to The Times in 1974, the year of his expulsion from the Soviet Union, that was never published in English because of its controversial content. The letter, consisting of two closely typed pages in Russian, survives in this newspaper's archive, alongside the dissident's hand-written envelope. Solzhenitsyn, who died on Sunday, wrote in his characteristic emotionally charged tone to vent his outrage at Zhores Medvedev, a fellow exile who became famous for exposing a serious nuclear accident in the Ural mountains in the 1950s.
...Speaking at his home in Mill Hill, northwest London, Dr Medvedev said that the letter was designed to generate a public row so that the world would know they were no longer friends. "It is not anger," he said. "It is cold calculation - a normal episode in which I was insulted a little. I did write a book about him. Everybody knew that we were friends, so it would be unnatural for us to stop talking. So if he wanted to cut [communication], he would have to do something cruel."
...The Times, to Solzhenitsyn's irritation, refused to print the letter unless the author could provide evidence that he had quoted Dr Medvedev accurately. The dissident, who was then at the height of his fame, angrily declined and sent the letter to Aftenposten, a Norwegian newspaper, and a Russian-language newspaper based in Paris. The letter appeared in both publications, but it was never published in English. Dr Medvedev was resigned to being rejected by Solzhenitsyn. "I knew sooner or later it would happen. [I] was cut from his circle like others before. It is sad. He died, unfortunately, without a single friend. He was absolutely isolated. He didn't have anyone who came to discuss politics with him." Solzhenitsyn even fell out with Aleksandr Tvardovsky, the editor who persuaded Nikita Khrushchev, then the Soviet premier, to allow the publication of One Day in the Life of Ivan Denisovich, the novel that exposed the horror of Soviet labour camps and made Solzhenitsyn's name. Dr Medvedev recalled that Solzhenitsyn also snubbed Mstislav Rostropovich, the world-renowned cellist who sheltered Solzhenitsyn at his dacha for three years when the writer was being victimised by the Soviet state. Rostropovich defected but became stuck in Paris when his attempt to enter Britain was delayed because Customs officials refused to grant entry to his beloved dog. Desperate for money, Rostropovich called his friend Solzhenitsyn, by now a multimillionaire from sales of his books, to ask for a loan. Solzhenitsyn would not take or return the cellist's calls. On another occasion, Solzhenitsyn refused to attend a dinner at the White House given by President Ronald Reagan in honour of Soviet dissidents because he objected to the calibre of some of the other guests. "He was a difficult man," Dr Medvedev said. ...more in The Times
June
Thursday the 19th is Suu Kyi 63rd birthday and a reminder of the hypocresie and inefficiency of expensive international bodies such as UN and the Penal International Court:



Millions of people throughout the world will mark the birthday of Burma's pro-democracy leader Aung San Suu Kyi on June 19. The co-ordinated campaign around the world, which will take place in almost every major city in Asia, Australia, Europe and North America, is trying to highlight the plight of one of the world's best known freedom fighters, languishing under house arrest in her lakeside residence in Rangoon. But Burma's military rulers are likely to remain totally unmoved by the millions of Burmese and international protesters demanding her immediate release. "They can jump up and down and make as much noise as they like, General Than Shwe couldn't careless," according to a senior government official. As a matter of principle, the ruling junta will not be pressured into being conciliatory. Aung San Suu Kyi has spent 13 of the last 19 years in detention. She is currently spending her third term under house arrest. The regime locked her up again after a brutal attack on her and her entourage as they were travelling in the north of the country in May 2003. She has been in detention ever since, and in the last four years she has been in virtual solitary confinement, seeing her doctor irregularly and meeting the UN envoy, Ibrahim Gambari five times in the last two years. For the Burmese people, trampled for more than forty years by a repressive military regime, Aung San Suu Kyi represents their aspirations, and above all their desire for freedom and democracy. She was placed under house arrest the first time ten months before her party, the National League for Democracy overwhelmingly won the national elections – but was never allowed to form a government. The irony is that Aung San Suu Kyi herself would probably disapprove of the world making a fuss over her birthday. She has continuously shunned personal attention. And even when her husband and sons accepted the Nobel Peace Prize in 1991, her acceptance speech smuggled out of the country at the time said it was not for her alone, but for all Burmese people in their struggle for democracy. There has always been a self-effacing touch to Aung San Suu Kyi. Since her return to Rangoon to look after her ill mother in 1987, she has always put her personal concerns aside for the sake of the Burmese people. "I draw inspiration from the courage and sacrifice of the ordinary Burmese people," she often said to me in interviews on the phone during the few years she was freed from house arrest for the first time in 10 July 1995, after six years under house arrest. But Burma's military dictator, senior General Than Shwe cannot even tolerate hearing her name. "The mere mention of her name sends the old man into a silent rage," according to a senior military source close to the top General. Asia's foreign ministers were warned by their Burmese counterpart at the ASEAN summit in Phnom Penh in 2002 to avoid mentioning her name in his presence. The former intelligence chief General Khin Nyunt frequently warned the UN envoy Razali Ismail to minimise the mention of Aung San Suu Kyi's name in front of the top general. ...more in Mizzima - The Irrawaddy - The Guardian - BBC
British death toll in Afghanistan hits 100 as three soldiers are killed: Three soldiers have been killed in a suicide attack in southern Afghanistan, taking the number of British military personnel killed in the country since 2001 to 100. The men, from 2nd Battalion, the Parachute Regiment, were on a routine foot patrol near their base in the upper Sangin valley in Helmand province when they were struck by an explosion. Four soldiers were injured in the attack and evacuated to Camp Bastion for treatment. One was pronounced dead on arrival and despite medics' efforts another two died from their wounds. Next of kin have been informed, the Ministry of Defence said. The MoD said the fourth soldier injured in today's attack was expected to make a good recovery. Air Chief Marshal Sir Jock Stirrup, chief of the defence staff, paid tribute to the 100 "brave and professional servicemen" who have died in Afghanistan. He said he reflected on the most recent deaths with "both a sense of deep sadness and pride" as he asserted that the military effort was starting to achieve real change. Stirrup said: "Every one of those deaths is a tragedy. Nothing can ever compensate for the loss felt by their loved ones and to them all I extend my deepest sympathies. "I only hope that the terrible hardship that they have been asked to bear can be eased by the certainty that in Afghanistan our forces are engaged in a most worthy and noble endeavour." He said previously lawless areas of Afghanistan now had the rule of law, more than seven million children were now in school and growing numbers of Afghans had access to healthcare. He added: "Nowhere is the battle for the future of Afghanistan more pressing than in Helmand, the focus of the British effort, where UK forces have magnificently taken the fight to the Taliban and put them on the back foot. ...more in The Guardian
May
Burmese dictatorship extends the elected president Dr. Aung San Suu Kyi detention:
Burma's junta today extended the house arrest of the country's democratically elected opposition leader, Aung San Suu Kyi, dashing hopes she might be freed after five years of detention. A delegation from the military regime's interior ministry visited the Nobel peace laureate this afternoon at her home in the Burmese capital, Rangoon, where she has been held since May 2003. As the group left after the 10-minute meeting, government officials told reporters that Aung San Suu Kyi had been told her house arrest order had been extended for another 12-month period. The 62-year-old, whose National League for Democracy (NLD) overwhelmingly won a 1990 general election that was then ignored by the junta, has been detained in her home without trial for 12 of the past 18 years, and continuously since May 2003. The house arrest order, which is renewed annually, had been due to expire at midnight tonight (6.30pm BST), according to the NLD. Lawyers representing the opposition leader's family argued that Burmese law states no one can be held for more than five years without being put on trial or released. While the military, which has ruled Burma since 1962, gave no sign that it planned to release Aung San Suu Kyi, there had been hopes the current international scrutiny of the country and its rulers following the devastating Cyclone Nargis might push the junta into a concession. However, the regime stepped up security around Aung San Suu Kyi's home and then arrested about 20 NLD members who tried to demonstrate near the house. The activists were pushed into a truck by riot police as they attempted to march from the party headquarters. ...more in The Guardian - The New York Times - Mizzima - The Irrawaddy - France 24
Corrupr Burmese dictatorship steps up security around Aung San Suu Kyi: It used to be you could ask any taxi driver and they would show you her house. There could be no stopping and no taking photographs, but they would drive you along Rangoon's University Avenue and you could glimpse the property where Aung San Suu Kyi has spent almost 13 years under house arrest. Now you cannot even do that. The day after Cyclone Nargis struck, the military authorities ordered that the security around her house be increased. So long a prisoner in her own home, she is now even more isolated from the Burmese people. Given the devastation wrought by Nargis, one might have assumed the authorities had more pressing priorities. But their decision to block off the house of the leader of Burma's political opposition reveals the junta's concern over the power the 62-year-old woman holds. After hundreds of monks gathered outside her house during September's pro-democracy demonstrations, the junta is apparently keen to ensure she does not again become a rallying point for people angry and frustrated by the regime's ineffective response to the damage caused by the storm. Suu Kyi lives with two maids. Her meals are brought in every day – checked by guards outside her house. Foreign diplomats were once permitted to call but that was stopped; her doctor is her only regular visitor. But even those visits, every three weeks, have been halted. "Whenever they are worried about her influencing the current situation they stop her doctor's visits," said a Western diplomat based in Rangoon. "After last September, her doctor was not allowed to visit until December." Her unique position is partly the result of an absence of alternative political leaders. Almost all of the organisers of several demonstrations held in Rangoon last summer before the larger protests in September have been jailed. Of the remainder, some have left the country while others are in hiding. Suu Kyi remains the only visible opposition figure. "Burma's half-million-strong army is terrified of her. She has the love and support of the people. She unites Burma's different political and ethnic groups. This makes her their greatest threat – she unites the people against the regime," said Mark Farmaner, of the Burma Campaign UK. "The generals are trying to keep her completely isolated from her people and from the world. Her phone line is cut, they intercept all her post. No visitors are allowed. Her sons are not even allowed into the country and she has grandchildren that she has never seen." Suu Kyi was last detained in May 2003. In the Alice-in-Wonderland world of the Burmese regime, the generals annually renew her imprisonment with a detention order delivered to her house. ...read the article by Andrew Buncombe, Asia Correspondent for The Independent - US Campaign for Burma - The Irrawaddy
Burma's dictatorship was given two days warning of devastating cyclone but did not prevent its people causing thus so many victims: Aid workers fear the repressive junta is concealing a huge loss of life in remote reaches of the once-green Irrawaddy delta. There are up to 50,000 dead and millions homeless, but the dictatorphip still does not allow international help to the victims. ...The Burmese government first learned that a cyclone was brewing in the Bay of Bengal nearly a week before it slammed into Burma, killing tens of thousands, but did not issue a proper public warning until hours before it hit. The Indian Meteorology Department said it dispatched an initial advisory to the Burmese authorities on April 26 about the cyclone, two days before the cyclone actually formed in the Bay of Bengal, and nearly a week before it struck land. B P Yadav, Director of the Indian Meteorological Department, said, "We updated the Myanmar [Burmese] authorities every three hours and on April 30 we provided the detail route, speed and locations of where the cyclone will hit." Though Burma's Meteorology and Hydrology department posted a warning on its official website on April 27, the information was not widely disseminated. The department said that a cyclone was forming in the Bay of Bengal and was heading towards Burma. State-run media did not issue a cyclone alert until the afternoon of Friday, May 2. The storm first struck the Irrawaddy Delta in late afternoon Friday and swept into Rangoon early Saturday.
...Even before you set foot in Burma, as the aircraft begins its descent towards Rangoon airport, it is obvious that something appalling has happened. Usually, the Irrawaddy delta is a land of deep and varied greens — the rice and vegetable fields, the river banks and the tropical trees that shade the towns and villages. But today the landscape is dominated by a different colour — the thick enveloping brown of river mud. It fills the swollen rivers and creeks and lies in a sticky blanket over vast areas of rice paddy. Ponds have been turned into brown lakes, meadows have become marshes and somewhere down there are millions of people whose lives were overturned on Saturday by a rising tide of brown water. Every day, the extent of the destruction caused by Cyclone Nargis has been revised upwards, from alarming to grim to disastrous — and yesterday it became clear that this is not just a local, but an historic catastrophe. Foreign aid workers in Rangoon have concluded that as many as 50,000 people died in last Saturday's cyclone, and two to three million are homeless, the worst disaster in the country's modern history, and of a scale comparable with the 2004 Indian Ocean tsunami. The people's plight is not helped by the disposition of their Government. Running the country on a combination of internal repression and xenophobia, the junta seems not to have made up its mind that this is a tragedy that it cannot remedy on its own. ...more in The Times - The Guardian - The Independent - The Telegraph - The Washington Post - The Irrawaddy - Mizzima TV - BBC
April
Yu Zhou dies as China launches pre-Olympic purge of Falun Gong:

Members of a peaceful Chinese spiritual movement say that more than 1,500 of its supporters have been detained in the run-up to the Olympic Games and that one of them, a popular folk singer, has died in custody. The arrests have been carried out against Falun Gong, a group that practises traditional meditation and exercise. The Chinese government banned Falun Gong in 1999, calling it "an evil cult". The official media have not reported the arrests, but there has been lively discussion among music fans on Chinese websites over the fate of the singer Yu Zhou, 42. "F*** authority. Another beautiful soul has left the world," commented one distraught fan. Falun Gong representatives said Yu was arrested on January 26 while returning home from a concert in Beijing. His family were called to the Qinghe district emergency centre on February 6 to view his body, which was covered in a white sheet. Yu's relatives were told that he had died of diabetes or as the result of a hunger strike. They replied that he had never suffered from diabetes and refused official demands for an immediate cremation, the group said. Yu won a following among young Chinese for his mellow folk ballads. His group, Xiao Juan and Residents from the Valley, released two successful CDs and appeared on the Phoenix television channel. Yu was a graduate of Beijing University. He married Xu Na, 40, a poet and painter who was imprisoned between 2001 and 2006 for her association with Falun Gong. The group said she was also arrested on January 26 and remains in custody. It was not possible to verify Falun Gong's allegations. Officers at the Tongzhou district detention centre would not respond to telephone inquiries. Friends and colleagues of Yu said they have lost contact with the parents of the couple, whose homes were said to be under police surveillance. ..."It is increasingly clear that much of the current wave of repression is occurring not in spite of the Olympics but actually because of the Olympics," said Amnesty International, which has detailed numerous arrests and the harassment of Chinese civil rights activists. Now operating from exile, Falun Gong said that at least 1,878 of its adherents had been arrested since January 1. The detainees included 156 people in Beijing. Of these, 26 were residents of the Chaoyang and Shunyi districts, which host Olympic venues. Falun Gong was founded in 1992 by Li Hongzhi, a former government grain clerk who is said to have achieved enlightenment. At first it attracted little official attention. As it grew in numbers, however, the group clashed with the authorities and a ferocious crackdown was launched. The US State Department estimates that at least 100,000 Falun Gong members have been imprisoned, locked up in psychiatric hospitals or sent to "reeducation" camps, where they are made to denounce Li. The group itself says several thousand of its followers have died in prison as a result of torture and beatings. ...more in The Times
Exclusive: Chinese police kill eight after opening fire on monks and Tibet protesters. 'They cried long live the Dalai Lama – then the firing started': Chinese paramilitary police killed eight people and wounded dozens more when they fired on a protest by several hundred Tibetan monks and villagers, The Times has been told. The protesters were enraged by a government inspection team trying to confiscate pictures of the Dalai Lama. The clash, one of the bloodiest since Tibetan protests against China erupted last month, occurred in the village of Donggu, high in the mountains of Sichuan province near the border with Tibet, after government officials entered the sprawling ancient hillside monastery of Tongkor. They searched the room of every monk, confiscating all mobile phones as well as the pictures. The monastery's website (www.donggusi.com) says that it is home to 350 monks. A contact telephone for the monastery was not operational yesterday. When the officials had removed the photographs, a 74-year-old monk, identified as Cicheng Danzeng, tried to stop police from throwing the images on the ground — an act seen as a desecration by Tibetans, who revere the Dalai Lama as their god king. A young man working in the monastery, Cicheng Pingcuo, 25, also made a stand and both were arrested. The team of officials then demanded that all the monks denounce the Dalai Lama, who fled China after a failed uprising in 1959. One monk, Yixi Lima, stood up and voiced his opposition, prompting the other monks to add their voices. ...more in The Times - The Guardian - The Washington Post - The Independent
China dictatorship jails prominent Human Rights activist: A Chinese court has jailed one of the government's most prominent critics for three and a half years on subversion charges, prompting an international outcry. The US immediately criticised the ruling and the European Union called for the release of Hu Jia, a dissident who has pursued issues ranging from democratic rights, support for Aids sufferers and self-determination for Tibet. Human rights groups also put pressure on the International Olympic Committee - currently in Beijing to finalise arrangements for the August games - to speak out about the repression of activists. They warned that Hu's sentencing this morning reflected a systematic crackdown on critics ahead of the Olympics, pointing out that he is the third activist to be convicted on the same charge in just two months. The 34-year-old had been held under house arrest in his flat at the Freedom City complex for more than 200 days before his detention in December. During this time he made a video diary showing the intense scrutiny he was subjected to. His wife and baby daughter remain under house arrest. This morning, the Beijing Number One Intermediate People's Court found him guilty of "inciting subversion of state power" in articles he posted on the internet and in interviews with foreign reporters. ...more in The Guardian - The Independent
China dictatorship has used Olympic Games for political ends and more repression, says Amnesty International: China's preparations for the Olympic Games come in for renewed criticism today as Amnesty International publishes fresh allegations that Beijing has used the games as an excuse to crack down on internal dissent. In a damning assessment of the country's human-rights record, the report alleges that abuses have increased rather than decreased as a result of it being awarded the Olympics, and calls on the International Olympic Committee and world leaders, including Gordon Brown, to use the Games to apply pressure to Beijing. "China: The Olympics Countdown" details how peaceful protesters and critical journalists have been targeted in a crackdown intended to allow China to use the Games to portray a harmonious image to the world. AI's findings appear to undermine promises made by Beijing and the IOC, that the award of the Olympics would be a force for good and hasten reform. The campaign-group's intervention coincides with a call from the IOC for an end to internet censorship before the Games begin in August. An IOC delegation is currently assessing progress in Beijing and yesterday used a meeting with the organising committee to urge the government to allow free internet access to the media attending the Games. ...more in The Guardian - The Independent - The Times
February
Putin rolling back civil rights, warns Amnesty International: Russians 'losing freedoms under new laws'. Human rights activists targeted, say critics. President Vladimir Putin has presided over a major "roll-back" of civil rights in Russia, which has seen freedom of expression, assembly and association seriously curtailed, Amnesty International warned yesterday. In a report ahead of Russia's presidential elections this Sunday the human rights group said the Kremlin was using new laws to persecute non-governmental organisations, forcibly break up opposition demonstrations and wipe out dissent. The Kremlin had also failed to solve the murder of several prominent journalists -most notably that of Anna Politkovskaya, shot dead outside her Moscow home in October 2006. Prosecutors charged nine people with her murder last October but have given no information about the case since, Amnesty said. "Human rights defenders, independent civil society organisations, political opponents and ordinary citizens have all been victims of this roll-back on civil and political rights," the report said, adding that this was contrary to international law and Russia's constitution."The space for critical views and for independent media and independent organisations to operate is shrinking ... expressing dissenting views can lead to harassment and may put people at risk of being subjected to human rights violations." The report was particularly damning over the Kremlin's treatment of non-governmental organisations (NGOs). In 2006 a new law came into effect which demands that NGOs submit regular reports about their activities - "an unduly burdensome measure", according to Amnesty. It has forced several NGOS regarded "as a threat to state authority" to close down. Additionally, the Kremlin has used a law on extremism to target organisations it does not like. The law has been used to close Rainbow House, a Siberian NGO which promoted gay and lesbian rights, and the Russian-Chechnya Society, another NGO that provided information about human rights in Chechnya. Its boss, Stanislav Dmitrievskii, was convicted of extremism after he published an article by Chechen separatist leaders. The legislation, made in 2002 and updated in 2007, was having "a chilling effect on freedom of expression", Amnesty said. It added: "Amnesty International believes that human rights defenders and human rights organisations, which are funded from abroad, are particularly targeted for harassment and intimidation." Last week the Kremlin refused a visa to Kenneth Roth, the executive director of Human Rights Watch - an unprecedented step. A Human Rights Watch report noted Russia's "growing authoritarianism". ...more in The Guardian / And in the webs of Amnesty International - Human Rigths Watch - and (mainly in Spanish) at Habeas-Corpus.net
After official inquire confirms what Psychoanalysis knew much earlier, drug giants are finally warned to tell the truth on all false medicines like Prozac: After antidepressant treatments are discredited, fears grow that other products may be ineffective. The pharmaceutical industry came under assault from senior figures in medical research yesterday over its practice of withholding information to protect profits, exposing patients to drugs which could be useless or harmful. Experts criticised the stranglehold exerted by multinational companies over clinical trials, which has led to biased results, under-reporting of negative findings and selective publication driven by the market, which was worth £10.1bn in the UK in 2006, amounting to 11 per cent of total NHS costs. The latest attack was triggered yesterday by an analysis of published and unpublished trials of modern antidepressants, including Prozac and Seroxat, showing they offer no clinically significant improvement over placebos (dummy pills) in most patients. But doctors said patients on the drugs should not stop taking them without consulting their GPs. It was the first time researchers – from the UK, Canada and the US – had successfully used freedom of information legislation to obtain all the data presented to regulators when the companies applied to license their drugs. In some cases it had not been made public for 20 years. Over the past two decades the drugs, known as selective serotonin re-uptake inhibitors (SSRIs), have been among the biggest selling of all time, earning billions of pounds for their makers. Yesterday's finding suggests that the money may have been misspent. Drug companies are required by law to provide all data on a drug, published and unpublished, to the regulatory authorities when applying for a licence. But this requirement does not apply to the National Institute for Health and Clinical Excellence (Nice), which assesses cost effectiveness and recommends which drugs should be used by the NHS. ...more in The Independent
Russian authorities today brought criminal charges against Lev Ponomarev, head of the All Russia Movement for Human Rights: Putin administration falsely accuses Dr Lev Ponomarev of slandering General Yuri Kalinin, head of the Russian prison system. The charges result from accusations made by Mr. Ponomarev that Russia's prison system is inhumane and that, in some prisons, prisoners are routinely tortured and otherwise severely abused. In addition to the criminal charges, Mr. Ponomarev's travel documents were revoked and he was told he would be arrested if he attempted to leave the country. It appears today's charges and the travel restriction are reprisals for his recent trip to the United States, where he was interviewed by the Wall Street Journal, Boston Globe, Chicago Tribune, Washington Post and Philadelphia Inquirer and gave public lectures on prison conditions and human rights in Russia at Harvard, Columbia, NYU, University of Pennsylvania, University of Chicago and Boston University. While in the United States, Mr. Ponomarev also had a number of other meetings with foundations, academics, human rights groups as well as the Department of State and NSC in Washington. He returned to Moscow a week ago, 15 February. ...more in the webs of The Committee to Free Mikhail Khodorkovsky and Platon Lebedev - All Russia Movement for Human Rights.
Putin's Torture Colonies:
By Bret STEPHENS
"The protest began after OMON [riot police] had been brought to correctional colony No. 5 (Amur Oblast, Skovorodino Rayon, village Takhtamygda) and started massive beatings of the prisoners. People in camouflage and masks were beating with batons inmates taken outside undressed in the freezing cold. . . . As a protest, 39 prisoners immediately cut their veins open. "Next day, on 17 January, the 'special operation' was repeated in an even more humiliating and massive form. At that time, about 700 inmates cut their veins open. . . ." The description here comes from a report received by the Moscow-based Foundation for Defense of Rights of Prisoners. The time reference is to 2008 -- that is, last month. This is not Alexander Solzhenitsyn's Russia. It's Vladimir Putin's. And correctional colony No. 5, located not far from the Manchurian border, does not even make the list of the worst penal colonies in the country. That distinction belongs to the newly revived institution of Pytochnye kolonii, or torture colonies. After all but disappearing in the 1990s under the liberal regime of Boris Yeltsin, there are now about 50 pytochnye kolonii among the roughly 700 colonies that house the bulk of Russia's convict population, according to FDRP cofounder Lev Ponomarev. And while they cannot be compared to the Soviet Gulag in terms of scope or the percentage of prisoners who are innocent of any real crime, they are fast approaching it in terms of sheer cruelty. The cruelty to prisoners often begins prior to their actual sentencing. "When people are transported from prisons to courts to attend their hearings, they are jammed in a tiny room where they can barely stand. There's no toilet; if they have to relieve themselves, it has to be right there," says Mr. Ponomarev. "Then they are put on trucks. It's extremely cold in winter, extremely hot in summer, no ventilation, no heating. These are basically metal containers. They have to be there for hours. Healthy people are held together with people with tuberculosis, creating a breeding ground for the disease." ...more in The Wall Street Journal
Dictator Fidel Castro quits forced by poor health but his oppressive rule goes on: Fidel Castro's enemies may have prayed for almost half a century for this day, but there is little sign that the resignation of the figurehead of the Cuban revolution will bring about much immediate change. A succession battle is certainly brewing behind the scenes – how could it not when Mr Castro is 81 and dying, and his brother Raul, the caretaker leader, is 76 – but for now it is likely to stay where it is, in the shadows. First, Raul Castro is a formidable presence in and of himself. He runs the army, by far the most powerful institution in the country, and has a unique claim to figurehead status because of his long, close relationship with his brother. And secondly, Fidel himself is not going to go away immediately. "He still has some good days, and when he has them, there is nothing to stop him from meddling, with or without the titles," said Ann Louise Bardach, a noted reporter, policy analyst and author of two books on Cuba including the forthcoming Without Fidel. "As long as he can speak and think we will be hearing from him. This is his baby, this revolution, and it's a cradle-to-grave operation." Ms Bardach says the timing and the manner of the resignation announcement are a big hint that Mr Castro, ailing as he is, is still very much on the scene. He hit the US news cycle at the very start of the day, right after a dozy Presidents' Day holiday weekend, to maximise his media exposure – "pedigree Fidel" with his knack for public relations, Ms Bardach called it. ...more in The Independent - The Guardian - The Washington Post - The Times - The New York Times - The Telegraph
Burmese democratic leader shot dead in Thailand by the long arm of the dictatorship of Burma: The leader of one of the largest ethnic rebel groups in Burma was shot dead today at his Thailand border home. Mahn Sha, secretary general of the Karen National Union (KNU), was shot by two men at his house about five kilometres from the border with Burma, said Zin Linn, a member of the dissident National Coalition Government of the Union of Burma, to which Mahn Sha also belonged. The 64-year-old died instantly in the attack, which took place at about 4.30pm local time (0930 GMT), Linn said in an email message reported by the Associated Press. "We lost, not only for the KNU, but all the democracy struggle for Burma, a very qualified man. He was a key person, the engine of the KNU," he said. Mark Farmaner, director of the Burma Campaign UK, said he had spoken with members of Mahn Sha's family after the attack. "What we know is that two gunmen went to the house. They were carrying fruit - people often bring gifts to Mahn Sha because he's a leader," Farmaner said. "One of them produced a pistol and shot him in the chest, the other shot him when he lay on the ground." The men then escaped in a vehicle, which had its engine running throughout the attack, Farmaner said. Thai police told AP that initial investigations suggested the assailants were also Karen, and that a third suspect had remained in the truck. Police said they had the registration number of the vehicle and were setting up roadblocks to try to catch the suspects. ...more in The Guardian - The Irriwaddy - Democratic Voice of Burma - The Herald Tribune - Burmanet
---
A video discovered by Dr. Lev Ponomarev, chair of the All Russia Movement for Human Rights, reveals systematic human rights abuses and torture in Putin's prisoners camps:

as the OMON police beat, torture, and intimidate the inmates as part of a "preventive action" to control the prison population. The footage, which is from 2006, was captured covertly at great personal risk by a prison guard, and later leaked to Ponomarev, who succeeded in getting a brief excerpt aired on REN-TV very late at night. Here is the first full version of the video, brought to public distribution by the lawyer Robert Amsterdam, lawyer for the political prisoner Mikhail Khodorkovsky. ...more in the web of Belfer Center for international Affairs - Eurasia Daily Monitor - The Boston Globe - The Harriman Institute
Watch also a document by reporter C.J. Chivers reports on the revival of brutality among Chechnya's pro-Kremlin forces in New York Times .
The tyranny of Russia forced student into psychiatric torture for disliking Putin: To the men in white coats who locked him away, Artem Basirov was a confused and paranoid lunatic who was a danger to himself and others. His own diagnosis of the condition that led to his detention in a Russian psychiatric hospital was simpler: it was his dislike of President Vladimir Putin. Artem Basirov. Student sectioned and drugged for anti-Putin activities Force-fed drugs: Artem Basirov Mr Basirov, 20, a university student, was among a group of pro-democracy activists planning a protest against President Putin's increasingly authoritarian rule ahead of last December's elections. But on the night before the planned demonstration, he was snatched by secret service officers, taken to a state psychiatric hospital and forced to undergo a month of "treatment", during which he was fed mind-numbing drugs. Mr Basirov's incarceration inside the Soviet-era psycho-neurological clinic, details of which have been passed to The Sunday Telegraph, is the latest case in which opponents of Kremlin rule have been hauled off to state-run mental institutions. Exactly as in the decades of communist dictatorship, when sectioning on mental health grounds was used to silence Kremlin critics, it is being seen as another tactic used by the government to intimidate the opposition ahead of next month's presidential elections. ...more in The Telegraph
January
Cambodian police blocked Mia Farrow and other citizens from holding a genocide memorial ceremony at a Khmer Rouge prison: at one point forcefully pushing her group away from a barricade. Farrow, who is working with the U.S.-based advocacy group Dream for Darfur, was in Cambodia as part of a seven-nation tour of countries that have suffered genocide to call attention to the humanitarian crisis in Sudan. "My heart -- our hearts -- are breaking for what happened in Cambodia today, especially for the survivors of genocide," Farrow told a news conference after the confrontation with police. ...Beijing's tough approach illustrates its extreme sensitivity toward anything that might tarnish its staging of the Aug. 8-24 Olympic Games. Beijing has invested billions of dollars and national prestige in what it hopes will be a glorious showcase of China's rapid development from impoverished agrarian nation to rising industrial power. A tide of criticism from rights groups, celebrities and international media threatens to dampen the mood surrounding the games. On Sunday, actress Mia Farrow received widespread publicity with an attempt to stage a protest at a former Khmer Rouge prison in Cambodia over Chinese support for Sudan. Farrow has been working with the U.S.-based advocacy group Dream for Darfur, which has held mock Olympic-style torch-lighting ceremonies in places around the globe that have suffered mass killings to call attention to the Darfur violence. China has sold weapons to the Sudanese government and defended Khartoum in the U.N. Security Council. Resource-hungry China buys two-thirds of Sudan's oil exports and observers say Sudan's military receives up to 70 percent of oil royalties. China says it plays a constructive role in seeking to resolve the Darfur conflict, where more than 200,000 people have died since 2003, when local rebels took up arms against the Arab-dominated Sudanese government. ...more in NewsDay.com - The Washington Post / And in the website of NGO A Dream for Darfour
The stupidity of voters or how a crocodile's tear won hypocrite candidate New Hampshire : Hillary Clinton conceded today that a rare moment of public emotion in a New Hampshire coffee shop had helped bring her back from the political dead. The usually stoic former first lady said that the incident, in which she became teary as she discussed what drove her to keep fighting for the presidency, had afforded her a "connection" with New Hampshire voters that had propelled her to a 3 point victory in the state's primary over favourite Barack Obama. "I had this incredible moment of connection with the voters of New Hampshire and they saw it and they heard it. And they gave me this incredible victory last night," she said during an interview with CBS. Analysis of exit polls from New Hampshire showed that women voters, traditionally her most loyal supporters, flooded back after deserting her for Barack Obama in last week's Iowa caucuses. Mr Obama narrowly edged Mrs Clinton for the female vote in Iowa primary last week but yesterday she enjoyed a clear 13-point lead. ...more in The Times - The Guardian - The Independent - The Washington Post
Narco-terrorist FARC forced to admit that they lie to president Chavez as hostage child Emmanuel Rojas was in the care of Colombian orphanage: The Colombian government yesterday released DNA results which it said proved that a three-year-old boy born in captivity to a woman held by leftist guerrillas had in fact been living in foster care in the capital Bogotá since 2005. The news is a boost for President Alvaro Uribe and a setback for the Farc guerrillas, who claimed they were still holding the boy - and had even offered to release him as a gesture of goodwill. Tests all but certainly proved the child in foster care was Emmanuel, born to his hostage mother and a guerrilla father in 2004. There was a "very high probability" the foster child, Juan David, was in fact the son of Clara Rojas, a politician kidnapped in 2002, said government officials. DNA tests were done on the boy and on Rojas's mother and brother. "The scientific conclusion is that there is a higher probability that Juan David is a member of the family of [Rojas' mother] than of any other family," the chief federal prosecutor, Mario Iguáran, told reporters in the northern city of Santa Marta. ....more in The Guardian - The Washington Post - The New York Times / And much more in Spanish at Habeas-Corpus.net
Year 2007
November
Young girl suicide highlights poverty in Philippines: All she wanted was a bicycle, a pair of new shoes and to be able to finish her schooling. But her family was dirt poor, and eventually the 12-year-old Filipina girl grew so demoralised that she hanged herself. Mariannet Amper left a letter under her pillow describing her failed hopes and aspirations. Her family also found a diary in which she described the privations of a life with no money in Davao City, on southern Mindanao island. They are among millions of people living in poverty in the Philippines, a country where the gap between haves and have-nots is wide. Mariannet's father, a construction worker, told the Philippine Daily Inquirer that he had been out of work for several months. Her mother works part-time in a noodle factory, earning less than a dollar a day, and takes in laundry. The night before she killed herself with a nylon rope in their modest hut, which has no electricity or running water, Mariannet had asked her father, Isabelo, for 100 pesos (about £1) for a school project. But he had no money. The next day, he managed to get a 1,000-pesos cash advance for some building work on a chapel. But when he got home to tell her, his daughter was already dead. ...more in The Independent
Anger fading over endurable dictatorship in Burma ...Where is the world's civil perseverance?: Only six weeks after Burma's generals brutally suppressed pro-democracy protests, international outrage is fading and, with it, political and diplomatic pressure for change. Campaigners say the unrelieved plight of the Burmese people is again in danger of being forgotten. In some ways, repression has actually grown worse. Theirs was the "saffron revolution" that never was. Western diplomats say widespread condemnation of the junta, and additional sanctions imposed by the US and EU, Australia and Japan, have had limited but measurable impact. Following the violence in which up to 200 people died and unknown thousands disappeared into the night, the UN security council formally took up Burma's case for the first time. It told the generals to stop killing and start a genuine national dialogue. Article continues The UN's envoy, Ibrahim Gambari, visiting the country this week, and is expected to be allowed to meet Aung San Suu Kyi, the veteran pro-democracy leader held under house arrest, but not General Than Shwe, the junta leader. The regime meanwhile has appointed a "liaison officer" and offered conditional talks with the opposition. Some political prisoners have been released. And a UN human rights rapporteur, Paulo Sergio Pinheiro, is expected in Rangoon next week, the first such visit for four years. Mr Pinheiro said yesterday he would demand unfettered access to Burma's prisons and investigate how many people the security forces had killed. "If they don't give me full cooperation, I'll go to the plane and I'll go out," he warned. His threat doubtless has the generals shaking in their jackboots. "After 45 years of military government and several failed uprisings, it would be a little ambitious to think you can get instant results," said a senior British official. "We're trying to use the genuine shock and horror [over September's bloodshed] to engage the neighbours, to get a political process and a genuine dialogue going that includes ethnic minority groups." ...read the article by Simon Tisdall in The Guardian
Musharraf declares a dictatorship in Pakistan and arrest democratic opponents: Pakistan's president Pervez Musharraf imposed emergency rule last night, plunging the nuclear power into crisis and triggering condemnation from leaders around the world. The action to reassert his flagging authority was, he said, a response to Islamic militancy and to the 'paralysis of government by judicial interference'. He said that his country's sovereignty was at stake. Judges and lawyers were arrested, troops poured on to city streets and television and radio stations were taken off the air. Musharraf also suspended the constitution and fired the chief justice, Muhammad Iftikhar Chaudhry, who spearheaded a powerful mass movement against him earlier this year. ...more in The Guardian - BBC - The Times - The Telegraph - The Independent
191 dead, thousands of victims - but the 'mastermind' of Madrid masacre is cleared, so who masterminded it, ETA?: The accused mastermind of Europe's worst Islamist terrorist attack was cleared of all charges along with six others yesterday in a shock judgment that angered victims. Twenty-one others were convicted of playing a role in the 2004 Madrid train bombings, though many of them on much lesser charges than the prosecution had sought. Family members of the 191 people killed and 1,800 injured expressed astonishment, branding the sentences as lenient and feeble, and vowing to appeal. Pilar Manjón, a communist pro Zapatero activist, who heads the largest association of victims, said: "I don't like to see murderers walk free." She lost her 20-year-old son when ten bombs packed into sports bags and detonated by mobile phone ripped through four commuter trains. ... The accused mastermind, Rabei Osman Sayed Ahmed, known as Mohammed the Egyptian, burst into tears of relief upon hearing the verdict, shouting "You see that I'm innocent?" according to his lawyer. He is serving a ten-year sentence on unrelated terrorism charges in Italy, where police taped him bragging in a telephone call about his supposed plotting of the Madrid bombings. ...more in The Times - The Guardian - The Independent - The Telegraph - The Washington Post
October
While a brutal repression goes on in Burma, dissidents also fear dictatorship's assassins: Burmese pro-democracy activists who have fled across the Thai border fear death at the hands of assassins sent to track them down. Speaking in Mae Sot, a town on the Thai side of the border where unexplained deaths are common, a leader of the recent protests said he feared that Burmese government agents could pursue him.
"It's not safe because I am illegal," he said. "The Thai police can arrest me and send me back. And we are very close to the Burma border. A team can come and assassinate me. There are many spies here." The smuggling of women, children, gems and drugs are big business in Mae Sot. The town is a key destination for those fleeing the Burmese military regime.
But the activist, Hlaing Moe Than, 38, who was a regional leader for Aung San Suu Kyi's National League for Democracy in the Mandalay area, insisted yesterday that he would not move further from his homeland before he had spoken of his experiences.
Hlaing Moe co-ordinated protests with the Buddhist monks' leaders in the days before they joined the anti-government demonstrations in their thousands last month.
He was a student leader in the 1988 democracy movement that was brutally put down by the junta. He spent eight years in prison, first in the notorious Insein jail then at Myingyen, which he calls "the worst torture camp for political prisoners". ...more in The Times - The Indenpendent - The Guardian - The Telegraph
Anniversary of Anna Politkovskaya murder by Putin's anti-democratic regime:
Russian officials briefly detained five foreign activists Saturday, as international pressure mounted on Moscow to find the killers of journalist Anna Politkovskaya almost a year on from her murder. The activists -- a Briton, three Spaniards and a German-- were arrested along with a Russian colleague in the city of Nizhny Novgorod, in the western Volga region. They were in Russia to join events on Sunday marking the anniversary of the murder of Politkovskaya, who was one of few Russian journalists to investigate war crimes in Chechnya and openly criticise President Vladimir Putin. She was gunned down outside her home in central Moscow on October 7 last year. "They released us after four and a half hours, the five foreigners," Neil Hicks, of the New York-based group Human Rights First told AFP by telephone. ... Human rights campaigners and opposition groups are planning demonstrations in Moscow on Sunday to mark the anniversary of Politkovskaya's killing. "This was another way to interfere with the event we were trying to hold. There is a long series of interferences in this event," said Hicks. The five were picked up at the offices of Russian rights group, the Society for the Promotion of Tolerance, said Hicks. The others detained were three human rights campaigners from Spain, a German national working for Amnesty International in Moscow, and one of the Russian directors of the Society for the Promotion of Tolerance, he added. Earlier Saturday, the Council of Europe repeated its call to Moscow to reveal the truth about Politkovskaya's murder. "The murder of Anna Politkovskaya, one of Russia's most courageous journalists, was a direct attack on democracy, and it must not go unpunished," said Rene van der Linden, who heads the pan-European rights body's parliament ... more in France 24 - The Independent - The Times - The Telegraph - The Washington Post
Secret cremations hide Burma's dictatorship killings by torture: The Burmese dictatorship has burnt an undetermined number of bodies at a crematorium sealed off by armed guards northeast of Rangoon over the past seven days, ensuring that the exact death toll in the recent pro-democracy protests will never be known. The secret cremations have been reported by local people who have seen olive green trucks covered with tarpaulins rumbling through the area at night and watched smoke rising continuously from the furnace chimneys. They say they have watched soldiers in steel helmets blocking off roads to the municipal crematorium and threatening people who poke their heads out of windows overlooking the roads after the 10pm curfew. Their accounts have been volunteered to international officials and aid workers in Rangoon, Burma's main city. The consensus in the foreign community is that the consistency of the stories makes them credible. ..."There has been no attempt to identify the dead, to return the bodies to their families or to give them even the minimum Buddhist religious rites," said a foreign official who has collated information on the toll of dead and injured from a wide variety of sources. Horrifying rumours are sweeping the city that some of those cremated were severely injured people thrust into the ovens alive, but these have been treated with extreme caution by independent observers and have not been verified. However, it is widely accepted that the cremations began on the night of Friday, September 28, more than 24 hours after soldiers opened fire on unarmed Buddhist monks and civilians demonstrating on the streets of Rangoon. ...The best estimate among foreign diplomats here is that between 100 and 200 people lost their lives in the Rangoon disturbances. The number of Buddhist monks arrested is put at about 1,000, while about 3,000 civilians have also been detained. The regime's own statement is that 2,093 people are in custody. The Chinese army carried out a similar practice of anonymous cremations in Beijing after the 1989 Tiananmen Square massacre, when many unidentified bodies were disposed of at the city's Babaoshan crematorium. The true number of dead has never been established. ...more in The Sunday Times - France 24 - The Guardian
Horrific reports of military repression in Burma continue to circulate: Has the Burmese junta crushed the anti-government protests and at what cost? As diplomatic efforts continue today to resolve the crisis there are unconfirmed reports that thousands protesters were killed last week. ...The exiled Burmese blogger Soneseayar claims that thousands of protesters were killed last week. Thousands of protesters are dead and the bodies of hundreds of executed monks have been dumped in the jungle, a former intelligence officer for Burma's ruling junta has revealed. The most senior official to defect so far, Hla Win, said: "Many more people have been killed in recent days than you've heard about. The bodies can be counted in several thousand." Mr Win, who spoke out as a Swedish diplomat predicted that the revolt has failed, said he fled when he was ordered to take part in a massacre of holy men. He has now reached the border with Thailand. ... Reports from exiles along the frontier confirmed that hundreds of monks had simply "disappeared" as 20,000 troops swarmed around Rangoon yesterday to prevent further demonstrations by religious groups and civilians. Word reaching dissidents hiding out on the border suggested that as well as executions, some 2,000 monks are being held in the notorious Insein Prison or in university rooms which have been turned into cells. There were reports that many were savagely beaten at a sports ground on the outskirts of Rangoon, where they were heard crying for help. Others who had failed to escape disguised as civilians were locked in their bloodstained temples. There, troops abandoned religious beliefs, propped their rifles against statues of Buddha and began cooking meals on stoves set up in shrines. In stark contrast, the streets of Rangoon and Mandalay - centres of the attempted saffron revolution last week - were virtually deserted. ...more in The Guardian - The Daily Mail
September
'Blood' rubies bankroll Burmese dictatorship: Some of Britain's leading jewellers have been accused of propping up the military dictatorship in Burma by trading in "blood" rubies sourced from the country. Asprey, Cartier, Leviev and Harrods are selling the gems in their central London stores, with some items costing as much as £500,000. Rubies from Burma are among the most sought after in the world and experts claim the military junta makes tens of millions of pounds each year from the lucrative trade. While America has banned all imports from Burma, the gems continue to be sold in Britain despite government claims that it "discourages" trade between the countries. Last night Foreign Office sources indicated that Gordon Brown was pressing the European Union to introduce tougher sanctions against Burma which would prohibit sales of its gems in Britain. "A gift of a ruby is meant to symbolise love, but if it comes from Burma the true price is paid in blood and oppression," said Mark Farmaner, acting director of the Burma Campaign UK pressure group. "Any rubies on sale in the UK will have been purchased at some point from the military and so will be helping to fund that regime." ...more in The Times - The Telegraph - The Independent - BBC - The Guardian - The Washington Post
'My terror at the hands of the Burmese junta':
James Mawdsley, 34, spent more than a year in a Burmese prison during 2000 and 2001 after taking part in protests in Rangoon. James Mawdsley was tortured The most terrifying moment I ever experienced was being pushed barefoot and blindfolded through the gates of a Burmese prison with a major of the Tatmadaw [(Burmese military] laughing at the prospect of torture. It was a deranged laugh. His superior in the military intelligence gloated that they had been given the go-ahead to do "anything they liked" to me. Hours later, my spirit broken, I was locked in a suffocating cell which they assured me would be my home for five years. To intensify my isolation they emptied that entire ward of the prison of other inmates. I had no strength left. But unexpected people brought it back. The first was a prison guard who crept to my cell after midnight. He whispered: "I am sorry for what my country is doing to you." What a pulse of hope to see this humanity in an officer of the regime. And how tragic that he felt ashamed for his country, which in truth is glorious, and of such gentle people who are not to blame for the military regime. ...more in The Telegraph
July
Kidnapped journalists Sami Al-Haj [journalist, with tie in the left photo] and Bilal Hussein [photographer, in blue T-shirt] have spent combined 6 years in U.S. clandestine Military Prisons without charge : We take an in-depth look at the case of two reporters whose imprisonment by U.S. forces has gone largely ignored in the corporate media. Al Jazeera cameraman Sami al-Haj has been jailed without charge at Guantanamo for the past five-and-a-half years. Associated Press photographer Bilal Hussein has spent more than a year in a U.S. military prison in Iraq, also without charge. U.S. officials haven't made public any evidence of wrongdoing. We speak with Rachel Morris, author of a new article detailing al-Haj's ordeal; and Scott Horton, a lawyer specializing in international law and human rights who's closely followed Hussein's case. ...more in Democracy Now - Reporters sans Frontières - Amnesty International - Pacific Free Press - The Guardian - Associated Press - The Washington Post
June
Bush Jr secretly funding Al-Qaeda terrorists...
May
Gay activists and European MPs beaten and arrested in Russia: Police watch as neo-Nazis attack protesters. MEPs among 30 detained as aggressors go free ...Riot police used violence to break up a gay rights demonstration in Moscow yesterday and arrested several European parliamentarians in what critics say is the latest violation of human rights in Russia. A group of gay rights activists came under attack from neo-Nazi thugs when they tried to present a petition asking Moscow's mayor, Yuri Luzhkov, to lift a ban on a Gay Pride parade. He has previously dubbed gay rallies "satanic". Witnesses said riot police watched as far-right skinheads chanting "death to homosexuals" beat up several activists. ...Peter Tatchell was among dozens of people assaulted by Russians shouting "death to homosexuals" as they demanded the right to hold a gay Pride parade in Moscow today. Peter Tatchell Peter Tatchell is pulled away by police after being punched. He was punched twice in the initial melee before he was later attacked by six men, who punched him in his right eye and kicked him to the ground, suffering severe bruising to his face and body. ...City authorities had banned the Gay Pride demonstration, which Mr Luzhkov had described as "Satanic". An official claimed that it posed a threat to public order. The event attracted fewer people than a similar banned parade last year, when more than 100 were arrested and dozens of gay rights campaigners were attacked by skinheads shouting "Moscow is not Sodom". ...more in The Guardian - The Telegraph - The Times - The Independent - Also in the web of PeterTatchell.net

Madeleine disappearance: Briton's villa searched and three questioned by police Portuguese police searching for Madeleine McCann today said a British man was being treated as a formal suspect, while police in the Midlands are now undertaking inquiries linked to the disappearance. Robert Murat, an expat who lives in Praia da Luz less than 150 metres from where the four-year-old vanished 12 days ago, is understood to be the man who has had his status raised to that of "arguido" - a named suspect. ... Mr Murat, who grew up in Portugal and returned to the country two years ago after going to live in England, was released early today after police questioned him for more than 16 hours yesterday. He was interviewed along with a Portuguese man and a woman, understood to be German, who have also been released. ...more in The Guardian - The Telegraph - The Times - The Independent Also visit the website of Missing Children.
April
Brutal repression in Russia against anti-Putin demonstrations and 200 arrested including Garry Kasparov: Defying threats of police violence and the detention of dozens of colleagues, leaders of the Other Russia coalition said 2,000 supporters will march through central Moscow today. Led by Garry Kasparov, the former chess champion, and Mikhail Kasyanov, an ex-prime minister, the protests will call for transparent presidential and parliamentary elections, scheduled to be held over the next 11 months.
A second rally will be held in St Petersburg tomorrow. ...errified of any form of open opposition, the Kremlin is preparing the toughest of responses. Both marches have been banned and 9,000 anti-riot police drafted into the capital. ...more in The Telegraph - The Guardian - The Washington Post - Help the United Civil Front for a Democratic Russia chair by Kasparov -
Also watch Kasparov in a civic protest.
Indonesian Catholic priest killed in the Philippines: An Indonesian Roman Catholic priest was shot dead in his church in the latest of a string of murders that have alarmed the United Nations, the European Union and human rights activists. Franciskus Madhu, 30, a native of Flores Island in Indonesia, was attacked by three unidentified gunmen as he prepared to say Passion (Palm) Sunday Mass in Lubuagan in northern Kalinga province... Other Christian congregations immediately expressed deep sympathy for the Roman Catholic Church which has been critical of the government over alleged human-rights abuses... A Lutheran priest interviewed on Monday morning said that church leaders in Kalinga convened to discuss the killing of Madhu. "While the meeting is not over, we are one in condemning the killing," the priest said. Before the shooting incident, the priest was reportedly having a heated argument with a group of men, said Chief Supt. Raul Gonzales, director of the Cordillera Police Office. Observers, however, discounted this statement as something that could be a spin to keep this murder from being listed as an "extrajudicial killing." Responding policemen recovered from the crime scene six empty shells of M-16 rifles as pursuit operation was launched against the suspects who fled following the incident. ..more in The Manila Times
March
After 5 years of abuse and torture, Australian citizen Mr. David Hicks becomes first Guantanamo Prisoner to plead "Guilty": The Australian citizen David Hicks has become the first Guantanamo prisoner to plead guilty under the Military Commissions Act passed last year. Hicks entered the plea as part of a deal with military prosecutors. ...Hicks has been held at Guantanamo for the past five years. The U.S. government had originally accused him of conspiracy to commit murder, conspiracy to engage in acts of terrorism, attempted murder and aiding the enemy but only ended up charging him with one crime -- providing material support for terrorism. Pentagon officials say Hicks will likely serve his sentence in Australia. ...watch, listen and read the report in Democracy Now! - Also read David Hicks affidavit about the torture he is suffering at the hands of USA officers since December 2001 [in The Sunday Morning Herald]
Please also visit the website FAIR GO FOR DAVID HICKS and help asking Justice for our fellow citizen.
Bush Jr. worlwide war on Democracy: Nine-year-old Canadian citizen and his parents have been held in Texas after torture for 6 month in Iran with complicity of USA administration and probably Canadian one...more in Globalmail - Democracy Now
Help to Free Gary TYLER who has been imprisoned in the USA for 32 years despite being innocent: The case of Louisiana's Gary Tyler has been called one of the great miscarriages of justice in the modern history of the United States. Tyler, an African-American, has been jailed since he was 16 years old for a 1974 murder that many believe he did not commit. An all-white jury convicted him based entirely on the statements of four witnesses who later recanted their testimony. We speak with Tyler's mother, Juanita, and his sister Bobbie McCray. We're also joined by New York Times columnist Bob Herbert, who has been covering Tyler's case. And we hear Tyler in his own words in an un-aired interview from prison. ...hear and watch more in Democracy Now! and please visit the website Free Gary Tyler and join the civic campaign for Justice on behalf of this fellow citizen.
February
Egyptian blogger jailed for his democratic critic towards his country institutions and unfair practices in the name of Islam: An Egyptian blogger was today sentenced to four years in prison for insulting Islam and the country's president, Hosni Mubarak, in the country's first prosecution of a blogger. Abdel Kareem Nabil, a 22-year-old former student at Egypt's al-Azhar university, an Islamic institution, had pleaded innocent to all charges, and human rights groups had called for his release. But today, a judge issued the verdict and sentence against him in a brief, five-minute session in a court in the Mediterranean city of Alexandria, the Associated Press reported. ... more in The Guardian
The perverse meaning of "peace" in a terrorist mouth: ...De Juana Chaos was sentenced in 1987 to 3,000 years in jail for his part in 25 deaths, including machinegunning a car containing three soldiers, murdering a rear-admiral and planting a car bomb that killed 12 military policemen. ...Despite his deteriorating condition, de Juana is in uncompromising mood. He expressed no remorse for his killings and said that he felt no responsibility for the tumult that his death could cause. ...more in The Times .
Year 2006
December

Zapatero is flirting with the disintegration of Spain : ...The problem, however, is that ETA has so far refused to disarm or disband, raising questions about its commitment. That has fueled criticism that Mr. Zapatero bent to terrorists by offering talks with ETA to procure the cease-fire. Critics also say he yielded too much early this year in negotiations over greater autonomy for Catalonia. "It is a very efficient way of governing," said Antonio Elorza, a political science professor at the Complutense University of Madrid. But on serious matters of state, he said, such as the quest for more self-government from Spain's regions, concessions must be constrained by clearly stated principles. "Zapatero has offered no vision," he said. "We are reforming the state without any idea of where we are going." ...more in The New York Times
Annan: Iraq 'much worse' than civil war: ...The outgoing UN secretary general added that life was worse for ordinary Iraqis now than under Saddam Hussein's violent dictatorship. "Given the level of violence, the level of killing and bitterness and the way that forces are arranged against each other, a few years ago, when we had the strife in Lebanon and other places, we called that a civil war; this is much worse," he told the BBC World Service in an interview to mark his departure. ... more in The Telegraph.
Affaire Putin, a totalitarian serial killer:
Litvinenko's assassination witnesses feel threaten by the Russian secret services as they attack oponents of Putin's regime: ... An unnamed Russian businessman who flew from Moscow to Hamburg on October 28 with Mr Kovtun is also being sought. Police believe this flight was used to transport polonium-210 into Europe. ...Also the Moscow headquarters of Garry Kasparov's United Civil Front movement were raided yesterday. Police took away literature produced by the former world chess champion's group, which is highly critical of President Putin. ...more in The Times
Germany gripped by radioactive poison spread by Putin's murderous agents: The German media have been gripped by the unfolding drama. "Polonium Alarm," one newspaper headline ran. "More radiation victims" said another, as investigators continue to follow a radioactive trail around Hamburg left by the Russian businessman Dmitry Kovtun. Four people linked to Mr Kovtun, his former wife, her two children and her partner are still in hospital suspected of being contaminated with polonium-210. Police have found traces of the radioactive substance at a flat in Hamburg owned by Mr Kovtun's former wife. Detectives believe the Russian businessman spent two nights in this apartment before flying to London to meet Alexander Litvinenko. ...more in the BBC - The Telegraph - The Guardian - The Washington Post - The New York Times - The Times.

Traces of radioactive posion found in a cup and dishwasher at the Millenium Hotel where two Russian agents could murder Litvinenko: The Millennium Hotel in London emerged as the most likely site for the poisoning of the Russian spy Alexander Litvinenko last night after it was revealed that a cup had been found containing traces of the radioactive substance which killed him. It was reported that polonium 210 had also been found in a dishwasher at the hotel, in Grosvenor Square, raising concerns that small amounts of the substance could have been released into the water system. Unlike his drinking partners at the hotel's Pine Bar, Litvienenko was tee-total and drank only tea. All seven bar staff at the bar on the day Mr Litvinenko was poisoned have tested positive for the same radioactive substance that killed him two weeks ago. Tests were continuing on more than 250 customers who drank in the bar on the same day. ...more in The Telegraph - The Guardian - The Independent - The Times.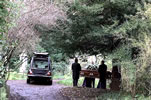 Another seven persons were poison from the radioactive effects of the arm used by Putin to remotely assasinate British citizen Litvinenko ...more in The Telegraph - The Guardian - The Times - The Independent - The Washington Post - watch the BBC
As one can expect from a serial killer, Putin obstructs Police investigation: ...It is thought that the visiting team from the Yard's newly formed Counter-Terrorism Command is likely to be less than surprised, however. Before they left for Moscow a senior Yard detective said: "We'll be welcomed with open arms, offered a nice meal and lots of vodka ... and come home with next to nothing." ...more in The Guardian .
Russian agency led poison plot: ...Intelligence officials say that only officials such as FSB agents (former KGB) would have been able to obtain sufficent amounts of polonium-210, the radioactive substance used to fatally poison Mr Litvinenko only weeks after he was given British citizenship. MI5 and MI6 are working closely with Scotland Yard on the investigation. A senior police source told The Times yesterday that the method used to kill the 43-year-old dissident was intended to send a message to his friends and allies. "It's such a bad way to die, they must have known," the source said. "The sheer organisation involved could only have been managed by professionals adept at operating internationally." ...more in The Times
A bodyguard of Putin was premeditated murdered in 2004 in the same manner than Mr. Litvinenko: ...Roman Tsepov died aged 42 in 2004 after suffering severe radiation sickness brought on by a mystery substance he had ingested with food or drink. The case suggests that use of radioactive poisons — similar to the polonium-210 that killed Litvinenko — may be more widespread than previously thought. ...In September 2004 he was admitted to Sverdlov hospital in St Petersburg with severe food poisoning. As in the case of Litvinenko, doctors were baffled as his condition grew worse over the first two weeks. He began to show classic symptoms of radiation sickness: he grew pale, his hair fell out and his white blood cell count fell. He died before he could be taken to a specialist hospital in Germany. The investigation into the case is still continuing. There are reports that Tsepov could have ingested the poison in a powder or liquid form while eating a meal. The city prosecutor's office in St Petersburg has described the case as a "premeditated murder". Print this article Send to a friend Back to top of page ALSO IN THIS SECTION Putin wanted Blair to gag poisoned spy Mentally ill murder 400 Pay us £100,000 a year, say MPs Britain 'being stifled' by nimby rules Trident fleet could be built abroad ... more in The Times .
Russia is the biggest spy threat to Britain: The Russian intelligence services, the prime suspects behind the murder of Alexander Litvinenko, have a network of more than 30 spies operating in Britain, it can be revealed. ...The agents, equivalent to one in five of the Moscow government officials based in Britain, are known to be monitoring the movements and activities of Russian emigres and opponents of the Putin regime. But they are also involved in a widespread operation targeting businessmen, MPs and scientists in an attempt to steal commercial and state secrets. ...more in The Telegraph .

Another investigator on wrongdoings by the Russian secret services infected with radioactive poison: An Italian intelligence expert who had lunch with Alexander Litvinenko on the day that he was poisoned was receiving emergency treatment in hospital tonight after testing positive for the same deadly radioactive isotope that killed the former Russian spy. ... Experts believe the fact that the academic, a contact of Mr Litvinenko, has also tested positive for polonium 210 indicates that the poison was delivered at the restaurant. Mr Scaramella has since been taken to hospital for further tests. Italian doctors said he had tested positive for a "significant" amount of the poison. ... more in The Times - The Telegraph - The Guardian - The Independent - BBC - The Washington Post - The New York Times.

Net tightens on the Russians assassins: What the killers may not have reckoned with is that the polonium 210 that killed Alexander Litvinenko, believed to be the only man ever killed with a nuclear poison, left a powerful radioactive "scent" as it was brought to London and inflicted on him. New developments in the fast-moving tale that has echoes of a spy thriller included the revelations that: a) The assassins were so bungling that they dropped the polonium on the floor of a London hotel room, a senior government source told The Daily Telegraph yesterday. b) Scientists at the Atomic Weapons Establishment at Aldermaston are believed to have already identified the nuclear plant which made the polonium. c) Anti-terrorist officers at Scotland Yard believe the polonium was brought into London on a British Airways flight from Moscow on Oct 25, a week before Mr Litvinenko fell ill. ...more in The Telegraph - The Guardian - The Times - The Washington Post - The New York Times - The Independent - BBC .

British Police identified two planes - which had traveled between Moscow and London - with traces of radioactive poison: Up to 33,000 passengers and 3,000 staff may have been exposed to the radiation but the risk of infection is very small, according to the airline. Concerned passengers should contact NHS Direct on 0845 4647, or a special BA helpline on 0845 6040171. BA is particularly keen to get in contact with passengers who travelled on specific flights between Heathrow and Moscow in late October and early November. These flights are: * BA875 Moscow-Heathrow on October 25 - aircraft number GBNWX * BA872 Heathrow-Moscow on October 28 - aircraft number GBNWX * BA873 Moscow-Heathrow on October 31 - aircraft number GBNWB * BA874 Heathrow-Moscow on November 3 - aircraft number GBZHA There are thought to have been around 200 people on the planes for each of the flights. The airline has published a list of all 221 journeys made by the suspect planes since the Moscow flights. The three planes mainly fly on European routes, to destinations including Dusseldorf, Barcelona and Athens. ... more in The Telegraph - The Times - The Guardian - The Washington Post - The Independent.

Mysterious violent illness hits former Russian PM during visit to Dublin: A controversial former Russian prime minister has been struck down with a mystery ailment contracted while on a business trip to Ireland, triggering speculation of an attempted poisoning linked to last week's death of an ex-KGB colonel in London. ...According to family members, he collapsed soon after eating breakfast on Friday in Dublin. His daughter Maria, an opposition activist, said he had been vomiting blood and bleeding from the nose when admitted to intensive care. Mr Gaidar lost consciousness for about three hours and was reportedly close to death. Associates of Mr Gaidar said doctors seem baffled. "There is still no final diagnosis," said Valery Natarov, Mr Gaidar's press secretary. "The theory that he was poisoned cannot be ruled out." ...Mr Gaidar was rushed to intensive care in Dublin, then flown to Moscow. Mr Gaidar, 50, suffered from a nose bleed and vomiting before fainting in Dublin last Friday, during a visit to promote his book The Death of Empire: Lessons for Contemporary Russia. His daughter was quoted as saying he had eaten "a simple breakfast of fruit salad and a cup of tea". He has criticised President Vladimir Putin's economic policies, but is not regarded as a prominent political opponent of the Russian leader. ... more in The Telegraph - The Washington Post - The New York Times - The Irish Times - BBC - The Independent.
If you are concerned for the sake of Democracy and Justice, please visit the website on the unfair trail of Mikhail Khodorkovsky
Another journalist dies in Moscow, this time in a "crach car": Otto Lacis, who has died in Moscow, aged 71, following a car accident, was one of the architects of the Soviet reform process begun in 1985 by Mikhail Gorbachev. He was the son of Latvian communists; his father had fought in the Latvian division of the International Brigade, but, being unable to return home after the republican defeat in Spain, had been repatriated to Moscow. Otto thus grew up in the Soviet capital and considered himself Russian, though he had close ties with Riga, where much of his family continued to live. ... more in The Guardian.
November
Putin's Stalin revival in Russian includes secret poison laboratories: Old habits die hard. Even if the hand of the FSB (KGB) is never proven in the case of Alexander Litvinenko, Russian intelligence services retain an unhealthy interest in developing obscure drugs and chemicals that can kill without trace. The euphemistic-sounding Operational and Technical Directorate succeeded Kamera (the Russian for chamber), the Cold War poison factory created by Stalin, but it still has a laboratory devoted to finding new ways of killing people. ...more in The Times .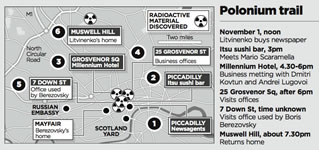 The British citizen assasinated in London was poisoned with a nuclear substance after noon Nov. 1st: So far the radioactive trail starts at Itsu restaurant at 3 pm ...the shadow home secretary, David Davis, who said in the House of Commons that there were grounds to suspect that this was a "a particularly cruel, protracted and unpleasant assassination". ...more in The Guardian - The Times - The Telegraph - The Independent .
The Kremlin's revenge: ... Mr Markov was poisoned on Waterloo Bridge in 1978. He had been shot in the thigh with a tiny pellet containing the poison ricin, fired from a specially adapted umbrella, partly developed by the KGB. Three days after feeling the initial prick of pain, Mr Markov was dead. ... Oleg Gordievsky, the former Russian double agent who defected to Britain during the Soviet era, shares Mr Berezovsky's belief that the Kremlin was behind the assassination. Mr Gordievsky, 68, told The Sunday Telegraph: "This murder was carried out by the FSB. The motive is that Alexander has for years been deliberately insulting Putin and the leadership of the FSB. He has been doing this very cleverly and with great sarcasm. "Alexander was almost asking for retaliation and, sure enough, it has now taken place. The men who did this will now be back in Moscow and they will never be brought to justice." Mr Litvinenko's death may have been linked to two meetings he had in central London on November 1 – the first at a central London sushi restaurant, the second at a nearby hotel. His first meeting was with Professor Mario Scaramella, an Italian defence consultant, for lunch at Itsu in Piccadilly, where he received documents claiming to name Ms Politkovskaya's killers. Last week, Mr Scaramella denied any involvement in the poisoning and revealed he had also met the Russian defector to warn him that his life was in danger. ... read the complete article in The Telegraph

A British citizen was assasinated by an invisible nuclear bomb shot by state terrorist Vladimir Putin: ...If - as Litvinenko himself claimed before his death last night - the Russian state apparatus is shown to have had a hand in the poisoning, Anglo-Russian relations would be thrown into crisis. The Health Protection Agency, the body charged with protecting the public's health, described the apparently deliberate poisoning of Litvinenko on November 1 as an "unpredecented event" in the UK ...The identity of the poison dramatically catalysed the investigation into Litvinenko's death. Chemists said that a fatal dose of polonium could only be produced artificially, by a particle accelerator or nuclear reactor. "This is not some random killing. This is not a tool chosen by a group of amateurs. These people had some serious resources behind them," Dr Andrea Sella, a lecturer in chemistry at University College London, told Reuters. ...more in The Telegraph - The Times - The Guardian - The Independent - The Washington Post - The New York Times.
Why Polonium 210 is an invisible atomic bomb? ...know more in The New York Times
Also read the unlawful detention and abuse against attorney Mikhail Ivanovich Trepashkin in The Trepashkin website : Lawyer Mikhail Trepashkin has been imprisoned since May 2005 on charges which appear to have been politically motivated. He suffers from chronic asthma, which has worsened in custody. On 29 May a judge ordered that he be hospitalized, but that evening he was forcibly removed from hospital by prison warders. Without adequate medical treatment his life may be in danger. ...more information Amnesty International .
Putin steeps up espionage in Russia and abroad ... more in The Washington Post

Sad times for Democracy and civil liberties: A hidden Russian agent has assassinated in London a British citizen, Mr Alexander Litvinenko, who had the courage to investigate criminal affairs of Vladimir Putin...just before Mr Litvinenko lapsed into unconsciousness yesterday he spoke of his determination to survive, but insisted that the campaign for truth would go on with or without him. "I want to survive just to show them ... the bastards got me, but they won't get everybody ... this is what it takes to prove one has been telling the truth." The sadistic poison made Mr Litvinenko suffered and looked like the victim of a Nazi concentration camp. ... Mr Litvinenko's gravest allegation against Putin is made in a book he wrote in 2003, "Blowing Up Russia", in which he accused the Russian secret service of planting bombs which triggered the second Chechen war ....more in the BBC - The Guardian - The New York Times - The Independent - The Washington Post - The Times - The Telegraph.
..."I have visited my friend half a dozen times this week and his deterioration has been steady and dispiriting. On Sunday night he was able to converse quite normally. On Monday we chatted but he already seemed tired. On Tuesday I had my last conversation with him. By then he was already visibly weaker. On Wednesday he barely moved and it was that night that he suffered a heart attack, lost consciousness and was put on life support. It was so different from the beautiful sunny day just a month ago, when we met at Westminster Abbey for a memorial service to Anna Politkovskaya, the murdered journalist who had exposed the State's abuses in Chechnya and paid for her courage with her life. ..." ...Read the article by film director Andrei Nekrasov in The Times
Also watch the film DISBELIEF (Loose change in Russia 1999) on the bombing of working class buildings in Moscow by the Russian secret services in a plot to empowered Putin and "justify" a new war against Chechenya - click here.
Watch a documental on the Russian Secret Services involvement in the bombing of working class buildings in 1999 - click here.
Poison case turns to hunt for third man "Vladimir": A mystery Russian who met Alexander Litvinenko, the former KGB spy, at a London hotel on the day he was poisoned has emerged as the prime suspect in the hunt for the assassin. Mr Litvinenko told Scotland Yard detectives that he had arranged a rendezvous with an old friend, but was surprised to find another man present who introduced himself only as "Vladimir". The stranger, described as a "tall, taciturn sharp-featured Russian in his early forties", accompanied an ex-Kremlin bodyguard, Andrei Lugovoy, to the hotel. Mr Litvinenko told police that he became suspicious that "Vladimir" was careful to reveal nothing about his identity, or why he had turned up to what was supposed to be a private get-together. The man reportedly pressed Mr Litvinenko repeatedly to join him in a cup of tea but said little else during the brief meeting on November 1. Later that day he complained of feeling violently ill. ...more in The Times - The New York Times - The Independent - The Telegraph


Kremlin gave order to kill dissident in London, Alexander Litvinenko, who is also a British citizen and had the courage to denounce Putin's record of crimes and corruption: ...Scotland Yard has launched an inquiry into the "suspicious poisoning" of the former KGB officer, which allegedly took place at a sushi bar in Piccadilly, west London, at the beginning of the month. Mr Litvinenko, author of "Blowing up Russia: the terror from within", had been meeting a contact offering him information about the murder of Anna Politkovskaya, the Russian journalist and critic of the Kremlin who was assassinated in October. The defector, who has been granted asylum and citizenship in Britain, believes he is being pursued by the Federal Security Bureau (FSB), the successor to the KGB, after claiming the Russian secret service had plotted to kill Mr Berezovsky. The FSB says he is Mr Berezovsky's stooge and says his accusations are absurd.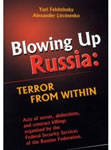 Mr Litvinenko met his contact, an Italian, over a late lunch at Itsu in Piccadilly. He fell ill that evening but doctors initially believed he had food poisoning, Mr Berezovsky said. The tycoon said: "The hospital ... initially thought something was wrong with his meal, in spite of family and friends telling them he was poisoned. He became worse and worse, they started a new investigation and confirmed that he had been poisoned by thallium." ...more in The Guardian - The Independent - The New York Times - The Washington Post - The Times - watch reports in Democracy Now and The BBC.
October
A courageous mother endless battle against a despotic superpower to get her loved son home from the Hell of Guantanamo: In November 2002 Bisher, his brother Wahab, friend Jamil el-Banna and several others were arrested by Gambian police where they were setting up a peanut processing factory. The others were later released but he and Jamil, both British residents but not citizens, were detained and interrogated by US officials. First they were taken to Afghanistan and a month later to Guantánamo Bay. According to US intelligence agents the peanut processing plant was a front for a terrorist training camp although no evidence has been produced to support this. "I know my son Bisher very well and he has never done anything wrong. But if the US authorities have any evidence that Jamil has been involved in any terrorist activity they should pass that intelligence on to the British intelligence services so that he can be prosecuted under the Terrorism Act. Why is he in Guantánamo under the auspices of a military court? Where was the battlefield he was fighting on?". ...more in The Guardian
A British journalist was killed by Americans troops in Iraq: ITN reporter Terry Lloyd was unlawfully killed when he came under fire from American troops in Iraq, a coroner ruled today. Andrew Walker, the assistant deputy coroner of Oxfordshire, said he would take steps to see if the soldiers responsible could be brought to justice. "Having carefully taken into account all the evidence I am satisfied so that I am sure that had this killing taken place under English Law it would have constituted an unlawful homicide," Mr Walker said, making his ruling after a six-day inquest in Oxford. ...more in The Guardian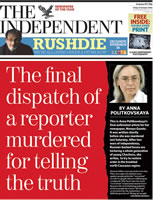 A lucid and brave journalist murdered for informing the truth on Putin despotic drive: This is Anna Politkovskaya's final unfinished article for her newspaper, Novaya Gazeta. It was written shortly before she was murdered last Saturday. After two wars of independence, Russian-backed forces are torturing a whole generation of young Chechens, she writes, to try to restore order in the troubled north Caucasus region. ...Prosecutors and judges are not acting on behalf of the law and they are not interested in punishing the guilty. Instead, they work to political order to make the Kremlin's nice anti-terrorist score sheet look good and cases are cooked up like blinys. This official conveyor belt that turns out "heartfelt confessions" is great at providing the right statistics about the "battle against terrorism" in the north Caucasus (where Chechnya is). This is what a group of mothers of convicted young Chechens wrote to me: "In essence, these correctional facilities (where terrorist suspects are held) have been turned into concentration camps for Chechen convicts. They are subjected to discrimination on an ethnic basis. The majority, or almost all of them, have been convicted on trumped-up evidence. "Held in harsh conditions, and humiliated as human beings, they develop a hatred towards everything. An entire army (of ex-convicts) will return to us with their lives in ruins and their understanding of the world around them in ruins too..." ...read more in The Independent

A multitude of Russian citizens pays respect to murdered journalist Anna Politkovskaya: Thousands of mourners queued up under grey Moscow skies today to pay their final respects to the investigative journalist Anna Politkovskaya - and some said that they feared that the last vestiges of Russian press freedom were being buried with her. ... The United Nations high commissioner for human rights, Louise Arbour, added her voice to calls for an exhaustive investigation, saying Politkovskaya's death was a great loss not just for her country but "for all who struggle for human rights around the world". Novaya Gazeta, the newspaper where Politkovskaya worked, published a memorial edition yesterday, saying: "For as long as there is a Novaya Gazeta, her killers will not sleep in peace." It promised that a team of reporters would investigate the murder. ...more in The Guardian - The Independent - The Washington Post - The Times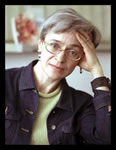 Murdered reporter was investigating torture in Chechnya. Protesters blame Kremlin for assasination of Anna Politkovskaya. A crowd of protesters gathered in central Moscow yesterday to express their anger at the assassination of the crusading journalist Anna Politkovskaya, who at the weekend became the 13th Russian journalist to be killed in a contract-style killing since President Vladimir Putin came to power in 2000. ... If ever any proof were needed that Russia is still haunted by its Soviet demons, it has been provided by the assassination on Saturday in Moscow of Anna Politkovskaya, the acclaimed investigative journalist. Her killing, in the lift of her own apartment block, is the latest in a series of murders to target prominent campaigners which have besmirched the democratic credentials of the state. For those of us who worked in Moscow in the Soviet era, it is a chilling reminder of a time gone by, when murders went unsolved and people disappeared from view for speaking their mind. ...more in The Guardian - The Independent - Watch special report in Democracy Now.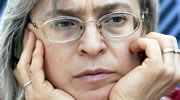 Vladimir Putin accused for murdering, the day of his 54 birthday (7th Oct 2006), the award winning journalist Anna Politkovskaya whom he had already tried to poisoned earlier ... Ms Politkovskaya, a tireless investigative reporter and highly respected journalist, has chronicled the killings, tortures and beatings of civilians by Russian servicemen in reports that put her on a collision course with the authorities. She wrote a book critical of Russian President Vladimir Putin and his campaign in Chechnya, documenting widespread abuse of civilians by government troops. 'Whenever the question arose whether there is honest journalism in Russia, almost every time the first name that came to mind was Politkovskaya,' said Oleg Panfilov, director of the Moscow-based Center for Journalism in Extreme Situations. Former Soviet leader Mikhail Gorbachev, who is said by friends to be concerned about the increasing lack of pluralism in the country, became a minority shareholder in the newspaper this summer. "It is a savage crime against a professional and serious journalist and a courageous woman," Gorbachev told the Russian news agency Interfax. "It is a blow to the entire democratic, independent press. It is a grave crime against the country, against all of us." ... more in The Guardian - The Washington Post - The New York Times - The Times - The Independent - TIME Magazine - Watch Anna Politkovskaya interviewed in the BBC .
August
Traumatised and afraid by Israeli attacks are 300,000 children who want to go home: "I don't want to die. I want to go to school," says Jamal, a four-year-old Lebanese boy scarred by the Israeli bombing of his country. Home for Jamal is now a "displacement centre" in the southern town of Jezzine, where his family fled in fear for their lives. ... more in The Independent
HUMAN RIGHTS WATCH investigation accuses Israel of deliberately attacking innocent civilians and of lying about accusing Hezbollah, that is Israel is liable of war crimes ... more in Human Rights Watch web site and in Democracy Now
July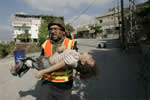 The government of Israel outrages all citizens of goodwill because of its genocides attacks causing the massive destruction of innocent civilians, namely children and women, trapped by its over powerful army in the concentration camps of Gaza and of Lebanon ...more in The Independent - The Guardian - The Washington Post - Democracy Now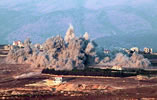 Annan accuses Israel over deliberated attack on UN post: Annan said the "co-ordinated artillery and aerial attack on a long-established and clearly marked UN post at Khiam occurred despite personal assurances given to me by prime minister Ehud Olmert that UN positions would be spared Israeli fire". Moreover, the UN observers had phone the Israeli army 10 times during the previous 6 hours to ask them to stop bombing their post ... more in The Independent
From Qlaya, Southern Lebanon, Robert Fisk reports: Israeli missiles had clearly pierced the very centre of the red cross on the roof of each ambulance ... more in The Independent
Israel is using cluster bombs [watch how treacherous they kill long after the attacks] and forbidden phosphor in the attacks on Lebanon population, their impact on civilians is unacceptable and a breach of international humanitarian law ...more in Democracy Now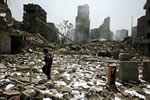 United Nations horrified for the extend of destruction by Israel attacks on Libanon: Israel is supected of using forbidden arms like fosforo in attacks against innocent civilians. Kofi Annan, the Secretary-General of the UN told CNN he was "afraid of a major humanitarian disaster" in Lebanon, and added that a ground invasion would spell "a very serious escalation of the war". Meanwhile, the United States was reported to have rushed forward an order of precision-guided bombs to Israel for use in its 10-day-old conflict with Hizbollah. ... more in The Independent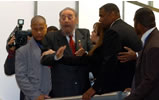 The peronist Kirchner with his comrades at a Mercosur meeting: president Chávez of Venezuela and the dictator Castro who is shown enraged against a journalist who "dare" to ask him about Human Rights violations of the type of Guantanamo on his island, namely about the neuro surgeon Hilda Molina, a disident to whom Castro forbides living the island to Argentina ...plus the information clicking here.
June
Blair laid bare: the article that may get you arrested: In the guise of fighting terrorism and maintaining public order, Tony Blair's Government has quietly and systematically taken power from Parliament and the British people. The author charts a nine-year assault on civil liberties that reveals the danger of trading freedom for security - and must have Churchill spinning in his grave ... more in The Independent

Vittorio Emanuele (photo) arrested for participation in "organized crime": The son of the last king of Italy was on his way to a prison in southern Italy last night after being caught up in an investigation involving allegations of prostitution and corruption.... This is not the first time that Vittorio Emanuele has been in trouble with the law. In 1999, he was acquitted of manslaughter by a court in Paris at the end of a 13-year legal marathon. He was accused of firing a rifle from his yacht while it was moored off Corsica, fatally wounding a German tourist who was sleeping in a vessel nearby. The judge accused him of maintaining relationships with the sicilian mafia. Vittorio was also a member of the criminal and fascist masonic loggia P2 which included the members of the Argentinean dictatorship and of other Ibero-American countries under the terrorist Plan Condor of Pinochet. He is an illiterate and a violent personage unworthy of the Platonic ideal of the Monarchy who during the marriage of HRH the Prince of Asturies assaulted HRH Prince Amedeo of Savoia, Duke of Aosta who is the authentic heir to the Italian crown ... more in The Guardian

Photo: SAR Amedeo of Savoia, Duke d´Aosta, authentic heir to the Italina crown.
For information on the worthy heirs to the Italian crown please visit the Web of the House of Savoia-Aosta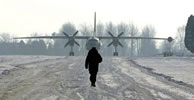 European nations helped CIA abductions: Investigation into CIA flies to kidnap and torture suspects around the world denounces Bush administration and cooperating ones as bad as terrorists ... more in The Guardian - The Times - The New York Times - The Washington Post - The Age
April
El enorme número de billetes de 500 euros en circulación en España supone un 60% del total, apuntaban a que España puede estar convirtiéndose en un centro de blanqueo para toda Europa. ... más en diario El Mundo.

Runsfeld directly responsable for tortures on Guantanamo concentration camp and other USA locations ...more in The Guardian
USA General joins attack on Rumsfeld over Iraq invasion : Fourth retired officer calls on defence chief to resign. Rift between military and civilian leaders deepens ... more in The Guardian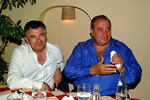 Some of the thieves: José Antonio Roca and Jesús Gil, Carlos Fernández, Marisol Yagüe and Isabel García Marcos
Decades of political corruption and abuse of power show that Spanish democracy could hide a new form of tirany as Plato predicted: Marbella council dissolved after corruption claims ... more in The Guardian
Police seize art and horses, worth 2.4 billions euros, in Marbella fraud investigation ... more in The Guardian -
March
Drinking to die and extreme nationalism like in former Yugoslavia are grave symptoms of childish mentalities ruining Spain ... more in The Independent
Torture at Abu Ghraib, Irak:
279 photographs and 19 videos from the Army's internal investigation record a harrowing three months of detainee abuse inside the notorious prison -- and make clear that many of those responsible have yet to be held accountable. ...more in Salon.com

Spain in the grip of corrupt politicians ... more in The Guardian
Tomasso Onofri was murdered by mason employee, Mario Alessi, his wife and an accomplice "because they could not stand him crying"! ... more in La Repubblica
Italy gripped by kidnapping of toddler: Boy needs drugs twice daily for severe epilepsy. Parents interviewed amid mystery about motive ... more in The Guardian
Mr. Tom Fox, the Christian Peacemaker hostage, was murdered in Iraq... more in The Guardian
Jowellgate: Italian judge will press charges over Berlusconi´s bribery allegations ... more in The Independent - The Guardian

The sadism of Bush's concentration camp in Guantanamo and elsewhere:
...a thorough analysis by an American law professor and a defence lawyer of information released by the US defence department revealed last week that 92% of the 517 Guantanamo detainees had not been al-Qaeda fighters ... more in the BBC
When George Met Jack:
White House aides deny the President knew lobbyist Abramoff, but unpublished photos shown to TIME suggest there's more to the story... more in TIME magazine
Jill Carroll begs the American people to help her by asking the Bush administration to free all Iraqi women who are imprisoned by the allies
Appeal for the journalist Jill Carroll:
Jill is an innocent journalist, and we respectfully ask that you please show her mercy and allow her to return home to her mother, sister and family.
Jill is a kind person whose love for Iraq and the Iraqi people are evident in her articles. She has been welcomed into the homes of many Iraqis and shown every courtesy.
From that experience, she understands the hardships and suffering that the Iraqi people face every day. Jill is a friend and sister to many Iraqis, and has been dedicated to bringing the truth of the Iraq war to the world.
We appeal for the speedy and safe return of our beloved daughter and sister. ... updates in NNC

The long shadow of barbarism cast by the unfairness of Bush and growing xenophobia en Iraq: The Abduction of the journalist Jill Carroll threaten of death (an act prohibited by the Koran) by her captors vindicating the human rights of women imprisoned by the USA invasion of their country ... more in Time magazine - The Guardian
A Turkish author, Orhan Pamuk, is threaten with prison for an historic opinion .. more in The Guardian
Enemies of the state? Police fail even to question men held as a terror threat
Suspected of plotting terror, a group of men have been held for four years but never charged. Now, in their first testimonies, they reveal the authorities have not even questioned them since their arrests
Amnesty is calling for immediate action: "If there is evidence against them, they should be charged with a recognisably criminal offence and tried in a British court," said Ms Allen. "Both expressed a wish for fair treatment, not special treatment - that the authorities should show them whatever evidence has condemned them to this limbo, and give them a chance to refute it in court. All they want is justice." ...more in The Independent
Weapons of Mass Destruction: is Bush who got them and used them to kill people
US finally admits using white phosphorus in Fallujah. Bush has betrayed the values of Democracy... more in The Independent
Vatican accused by The Internation Court on Crime of shielding 'war criminal ... more in The Daily Telegraph

A former Hitler boy who became Pope in the XXI century
The cardinals of the Roman Catholic Church have elected as Pope perhaps the most controversial, divisive and reactionary of all the plausible candidates. Cardinal Ratzinger, the promoter of religious ortodoxia, was born in Bavaria in 1927, a policeman's son. As a child he was a member of the Hitler Youth, which was then compulsory, but he was never a member of the Nazi Party... more in The Independent
The shortcomings of those who hold power over the world
... more in in George Jones´article, Political Editor for The Daily Telegraph

US banking records show payments from British arms firm and dictator Pinochet continued until recently
...more in The Guardian
The innocent Brazilian Londoner mistaken for a terrorist was shot 11 times by Police ... more in The Guardian
The perversity of the Bush doctrine "first kill and search later": Menezes lawyer queries police role in 'false' reports ... more in The Guardian
"It rains over Nagasaki" by Tomás Eloy Martínez ... read the article in La Nación

60 years without learning from the human evilness: Homo homini lupus ... El País - The Guardian - Le Monde


FAMINE : Millions of human beings are dying of starvation in Africa ... read more in The Guardian


Pinochet a perpetrator of crimes against Humanity was granted protection by Tatcher, Blair, Straw... more in BBC

Obscene secrets of ex-Nazi's Chilean fiefdom
Paul Schaefer - a former Nazi medic, Baptist preacher and alleged cult leader - has finally been captured in Argentina after eight years on the run. His arrest means Schaefer is likely to face jail for the sexual abuse of young boys, for which he was convicted in absentia in November last year after fleeing Chile... more in BBC
Blair has sent the people of the UK to war, with all its consequences, on only one page of legal advice...more in The Guardian

War in Chechnya
To mark the 10th anniversary of Russia's massive military assault on the breakaway republic, BBCrussian.com asked 10 prominent politicians, human rights activists, researchers and journalists to comment. The panel were asked to answer two classic questions that have troubled Russian thinkers for centuries: "Who is to blame?" and "What can be done?"... read more in BBC

US troops in Badgad fired at freed hostage
Freed Italian hostage Giuliana Sgrena has been hurt by US troops firing at a car taking her to Baghdad airport soon after her release. An Italian secret service agent was killed in the shooting at a checkpoint... read more in BBC

Happy birthday: We are throwing you out of Britain
His mother was shot dead for her political beliefs. So was his father. He was looked after by foster parents in London until he turned 18. Then he was locked up so that he can be 'dumped' abroad. Soon we'll be doing this to 16-year-olds... read more in The Independent
New evidence has emerged that US forces in Afghanistan engaged in widespread abuse, taking "trophy photographs" of detainees and carrying out rape and sexual humiliation... read more in The Guardian

A special report reveals that it is the British who refined who have provided the precedent for "legalised torture" : Two new books demonstrates that 9/11 created the will for harsher interrogation techniques of foreign suspects by the US and led to the abuses in Guantánamo, Iraq, Afghanistan and beyond... read more in The Guardian

Ministers defy call to end secrecy: Ombudsman denounces 'lamentable' failure to reveal financial interests of government members. Mr Blair is one of those failing to release a list of financial interests... read more in The Guardian

Blair administration accused over CIA's secret torture flights
UK airports are believed to be operational bases for two executive jets used by the CIA to carry out 'renditions' of terror suspects. Report by Stephen Grey and Andrew Buncombe... read more in The Independent
January 27, 2005
The inmense shadow of Auschwitz The Independent
What is the legacy of the Holocaust? The Independent
You must give some meaning to my condemned existence
A fellow man wrote this just before he died in a camp revolt in October 1944. His testimony was found buried near the gas ovens The Independent
Haunted by a the Nazi monster The Times From Roger Boyes in Auschwitz

World leaders and survivors gather to remember Holocaust The Times
Candles light heart of darkness The Times - The Guardian - The Independent
The Queen leads commemoration as soldiers and survivors attend special service in Westminster Hall. A cellist played a Jewish folk tune, a gypsy ensemble - practically the only concession that other groups also died - also played and the names of some of the dead were intoned by teenage grandchildren of survivors.
Links: Jewish Museum London

Britons detained in the concentration camp of Guantanamo Bay were freed - with no charge - after 3 years of torture The Independent - The Guardian
Fears raised for health of Britons after the hell of Guantanamo Bay The Independent