Contact
Join the Asterion Players :
Writers, actors, musicians, dancers, artists and technicians who wish to join The Asterion Players are welcome to apply (read criteria below) by email to the director.
The Asterion Players welcome applicants of all ages who wish to gain or share practical experience and develop their talents while contributing to the artistic productions of The Asterion Players and the cultural events of The Friends of Jorge Luis Borges Worldwide Society.
A clear knowledge of at least one international European language - such as English, Spanish, French, German and Italian - will be considered a significant asset. The learning of languages will be encouraged as well as the study of literature and philosophy (guided by the works of Jorge Luis Borges) to build up a solid humanist background in order to enrich personal education and understanding.
All expenses related to a job (including food and transport) will be paid.
Last but not least: a personal and ethical commitment to the creative aims of our altruistic organization will be decisive to develop any volunteer position into a permanent one.
To join the Asterion Players follow these steps :
1) Pay a complete visit to this web site to learn about the Friends of Borges organisation,

2) Send a letter of motivation together with your CV [stating your full name, date of birth, a document to prove identity, address, telephones, indicating if you have access to audio-video conference free of charge (such as MSN or Yahoo Messanger, Skype or Google Beta) through the Internet in order to facilitate a preliminary interview and further communications] to director@AsterionPlayers.net
Support the Asterion Players :
Become a Patron or Benefactor of this altruistic Company and share with us and others in the love of performing Arts while supporting the part of Drama in promoting Democratic values and a human civilization based on knowledge and truthful understanding.
For additional information or to ask for an interview please contact us by email at: info@AsterionPlayers.net
Booking
Tickets for the events can be purchased online from this page.
Nota Bene: You will receive an email confirmation of your payment ; please print a copy as a proof to attend the event.

Available tickets will also be on sale at the venues one hour before each event.

Special offers and Consessions might also be available and will be announced for each event.
In aid of Freedom and Democracy in Burma
Stick it up your Junta
Two nights of comedy in aid of The Burma Campaign UK
29th and 30th November 2007
Doors Open 7pm Performance Starts 8.00pm
The Venue Theatre, Leicester Place, London, WC2H 7BP
Nearest Tube: Leicester Square
Tickets £20 or concessions £15

Featuring:
David Armand, James Bachman, Tom Basden,
Katy Brand, Colin & Fergus,
Kevin Eldon, Simon Farnaby, Richard Glover,
John Hopkins, Shelley Longworth, Alice Rowe,
~Tom Meeten, Nick Mohammed, Steve Oram,
Katherine Parkinson, Barunka O'Shaughnessy,
Skinner & Verrall, Nick Tanner & Gareth Tunley
Tickets for this event will sell out quckly, so book soon to avoid disappointment.
Book your tickets on: 0870 899 3335 or www.seetickets.com
The Lady of Burma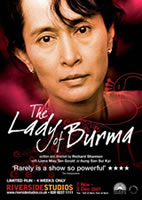 at the RIVERSIDE STUDIOS
from Wednesday 7 Nov to 2 Dec 2007
Written and directed by Richard Shannon
with Liana Mau Tan Gould as Aung San Suu Kyi
This compelling solo show tells the inspirational true story of Burmese leader Aung San Suu Kyi at a time when the world is watching the crisis in Burma unfold. Suu Kyi, Nobel Peace Prize winner, mother and grandmother, leader of the democratically-elected party in Burma, has endured house arrest for over a decade. This powerful performance has already had sell-out appearances at this year's Edinburgh Festival and the Old Vic, and is an unmissable hymn to the power of the human spirit in the quest for freedom.
Tells it all ... and catches the pain and wry humour inside that tiny frame and strong, wise face. - The Times
Rarely is a show so powerful. **** - The Independent